A monument honoring Virginia women is coming soon to Capitol grounds, and the public has the chance to design it.
A commission tasked with overseeing the installation of a monument honoring Virginia women on the grounds of Richmond's Capitol Square is asking the public for proposals to design the monument. This comes after the commission held nine community forums throughout the state last October to glean public preferences for the permanent monument.
"The commission members have had the opportunity to hear feedback from citizens from all across the Commonwealth on the themes and messages that a Monument to Virginia women should convey," said Lisa Hicks-Thomas, the state's Secretary of Administration. "I anticipate that we will get a number of submissions from artists from all over the country and that the final product will be one that will inspire similar efforts in other states."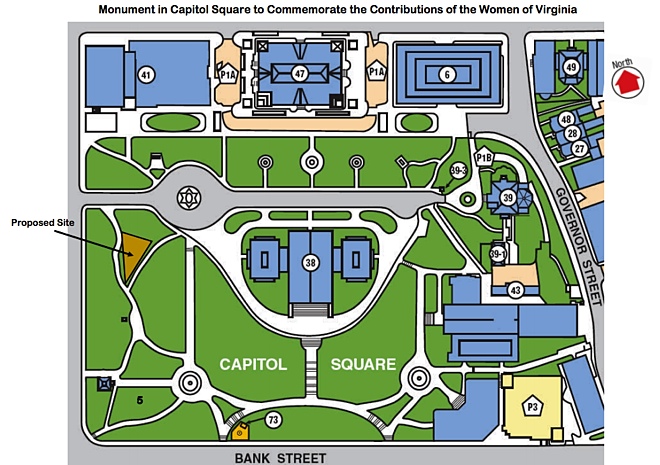 The commission was created by the General Assembly and began work in December 2010 to bring a monument to Capitol Square, west of the State Capitol. The current estimate for the project's budget is approximately $2 million, including fees to the selected artist, site construction, and other related expenses.  
Gov. Bob McDonnell said: "The women of Virginia have made our history and they are shaping our future. From Barbara Johns, to June Carter Cash, to Maggie Walker, women in Virginia have played a pivotal role in the development of our culture, country and Commonwealth."
The selection committee will review all proposals, choosing up to five finalists for consideration. A stipend of $3,500 will be offered to create a model of the winning design and financially compensate its artist. Proposals for the monument should include: detailed illustrations, dimensions, materials used, color, and a finished composition. The committee asks that designs not compete with the nearby equestrian statue of George Washington. While it should be accessible to the public, the monument should not allow for climbing unless constructed for that purpose.
Proposals must be received no later than October 1st, 2012. Additional details of submitted proposals can be read here (pdf). The winner will be announced in March 2013, during Women's History Month.