City-wide WiFi that's both free AND public? That's what one company is trying to do.
Free public WiFi is slowly blanketing parts of Richmond, and will continue to do so over the next several years, as part of RVAwifi, an initiative created by Shockoe-based technology solutions company Lionlike.
"I want everyone to be able to have it," said Corey Hitt, general manager of Lionlike and creator of RVAwifi.
The project began in 2012 when Hitt began work creating free public WiFi for residents of the Richmond Redevelopment and Housing Authority. The plan came in response to Hitt's concern that the lack of accessible internet kept the city's poorer citizens away from opportunities–what's known as a "digital divide."
But the plans stalled,1 which had the upside of allowing Hitt to broaden the project's scope to include not just select communities but all of Richmond. "I took a step back and reevaluated where could this go and how could it become a product that could become sustainable," Hitt said–all without costing a cent of taxpayer's money.
The idea is simple: Lionlike sells businesses special enterprise-strength routers that allow each business to provide internet access to its customers, but also creates an access point for people connecting to free WiFi. Customers using a business WiFi network from a Lionlike router see a welcome screen before accessing the internet. That screen also contains the name of the business, as well as customizable information which businesses can use to advertise specials, promotions, sales, etc.
Hitt reasons that most businesses already have an internet connection, but need a router to provide it to customers. Lionlike sells a business one for a $200 one-time fee, plus additional services like customer analytics (how many guests visited and with what devices and operating systems) along with VPNs. Hitt affirmed that the privacy of those who access RVAwifi won't be breeched. "We're not collecting any private information."
Hitt uses profits from router sales to fund RVAwifi. In June, Lionlike installed a high-speed fiber optics service, allowing the local tech company to become an Internet Service Provider (like Comcast and Fios) to those working and living in Shockoe Bottom. Just as with the routers, Lionlike will use its growing fiber optics network to bolster RVAwifi's signal and reach by creating a collective network.
To help fund the project, users can pay $4.95 each month for RVAwifi access with no sign-on pages as well as other benefits.
Current businesses part of the RVAwifi network include The Halligan Bar & Grill, Crave, Aqua, The Old City Bar, River City Diner, 707 Fine Clothing, Smiley's Glass, and Extreme Audio. Lionlike will install RVAwifi at the Redskins Training Camp sometime this winter.
Hitt knows that every business won't participate, but doesn't think they have to–every third business would help create a functional network. "By strategically placing access point[s]…it could very well grow to 100 percent coverage without 100 percent participation," he said.
Hitt wants to have suitable WiFi coverage for the UCI Road World Cycling Championships in 2015, because he believes there'll be a strong social media component among spectators at the international event. He plans to discern "what are going to be the hotspots around town that we can target to ensure we have coverage in those areas."
It'll take several years for RVAwifi to cover as much of the city and region as Hitt would like, but that's fine by him–the project has exposed him to different parts of the city he'd otherwise not see. "It's brought me out into the community more," he said. "I don't think there's another city like Richmond."
He'll have plenty more to see as RVAwifi grows its city-wide reach.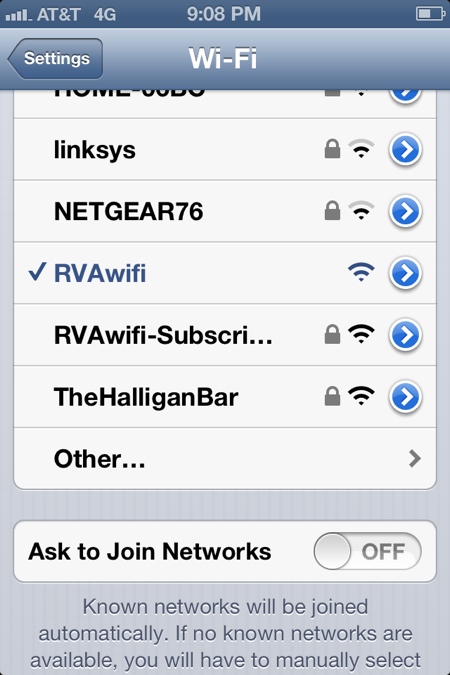 — ∮∮∮ —
Footnotes
Hitt said the City dragged its feet on providing access to rooftops to overcome line-of-sight issues. ↩
photos and images courtesy of RVAwifi