A couple of weeks ago the City hosted a public forum on the future of Richmond's riverfront (you can check out some tweets from the event here). Richmond has hired Hargreaves Associates, who are some seriously experienced guys & gals, to develop a plan for RVA's downtown riverfront–which, as defined, stretches from the eastern end of Belle Isle down to Rocketts Landing. At the event, the Hargreaves folks walked through a ninety-six page presentation made up mostly of awesome maps–if you are into that kind of thing. WHICH I TOTALLY AM.
I've pulled the twelve maps that I thought were most interesting or important and put them below. But, if you want, you can download the entire riverfront plan here (PDF), which I recommend.
Oh, also keep in mind that nothing in this particular presentation should be taken as a proposed development. This is more of an inventory of the State of Things. There will be two more public meetings (October 18th and December 13th) before Hargreaves presents their recommendations.
— ∮∮∮ —
The project area
— ∮∮∮ —
Population around the project area
13,000 residents, or six percent of Richmond's population, live within a half mile of the study area. Also of note: 28,000 Richmonders work just a quarter mile from the river.
— ∮∮∮ —
Topography
This slide kind of blows my mind; you can see just how much of a valley Shockoe Valley really is. Major parts of downtown are as far above sea level as parts of…the river. This is why we need a floodwall.
— ∮∮∮ —
The floodwall
See, I told you we needed a floodwall.
— ∮∮∮ —
Possible Mayo Bridge improvements
This was the first slide to draw applause from the audience. Hargreaves suggested (again, this may or may not be included in their final recommendations) making the Mayo Bridge more bike and pedestrian friendly by reducing the number of traffic lanes. Apparently the traffic levels on the bridge are low enough to support this.
Unrelated: did you know the Mayo Bridge is built below the twenty-five year floodplain? If you're interested in the floodplain, the full version of the presentation has maps of both the 100-year and 200-year (terrifying) floodplains.
— ∮∮∮ —
CSX property
— ∮∮∮ —
Norfolk Southern property
Both this slide and the one above it are kind of depressing. The amount of riverfront property owned by either CSX or Norfolk Southern is substantial and most likely lost to public use indefinitely. Hargreaves identified the areas outlined in blue as possible places where the public could share use with the railroad companies. However, they didn't seem too optimistic about it.
— ∮∮∮ —
Playgrounds
There are zero playgrounds within the study area! Wack!
— ∮∮∮ —
Brown's Island pedestrian bridge
Does anyone know why this bridge does not connect Brown's Island to the south side of the river? Hargreaves identified it as a great opportunity (requiring limited investment since the bridge is, like, already there) to create another way for pedestrians and cyclists to cross the river. Currently their options are limited.
— ∮∮∮ —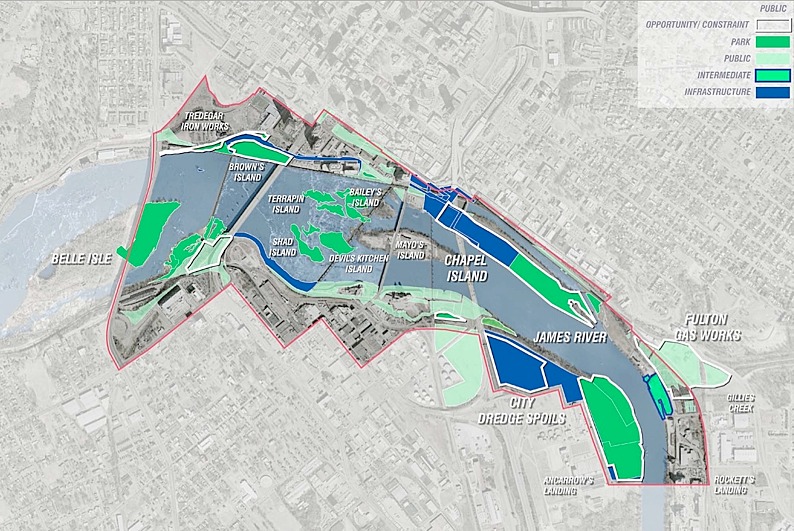 Public land
Areas marked in blue are classified as "infrastructure" and are probably lost to public use. Although, there was some talk of reclaiming the large "city dredge spoils" area.
— ∮∮∮ —
Public & private land
This map breaks down the public vs. private land ownership on the riverfront. Some things to note: Mayo island is privately owned, the Fulton Gasworks is a large area with some potential, and, again, the railroad companies own significant properties.
— ∮∮∮ —
Shiplock Park
Finally, here is the proposed expansion of the CSO (Combined Sewer Overflow) retention basin that would basically eat up half of Great Shiplock Park. Bummer.
— ∮∮∮ —