A Twitter user contacted us with an interesting idea.
Last week, we received these tweets from Stefanie Lacks on Twitter: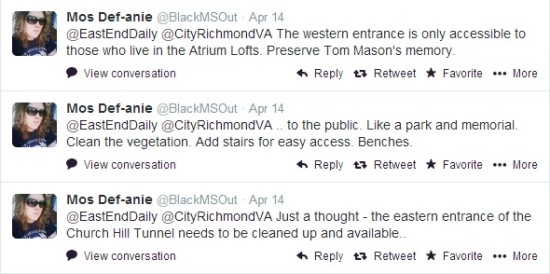 Her idea was an interesting one. For those of you unaware, the Church Hill Tunnel was constructed in 1875 for use by the Chesapeake & Ohio Railway. The tunnel is most remembered for the collapse that took place in 1925, which claimed the lives of workers Tom Mason and Benjamin F. Mosby.
According to the Times-Dispatch:
The infamous collapse occurred Oct. 2, 1925, during a renovation. The precise number of deaths is unknown, but experts believe at least four men were killed. The locomotive's fireman made it out of the tunnel only to die a short while later. The body of Thomas Joseph Mason, the engineer, was recovered after a prolonged rescue effort. The bodies of two other laborers were never recovered.
According to the Old Dominion Chapter of the National Railway Historical Society, there could be up to two or more workers who were left inside the tunnel after it was ordered sealed.
Currently, the tunnel is owned by the CSX Transportation Company.
It is this history that compelled Stafanie to start a petition:
I am petitioning the CSX Transportation company to honor the memory of not only Tom Mason but the countless other lives lost in an endeavor that was never meant to be. By clearing a portion of the overgrown and unruly woods, installing concrete stairs that lead from the top of the hill to the tunnel entrance, placement of benches and markers that tell the dark story of Church Hill Tunnel, this area could be a park and a memorial of sorts – giving residents of Church Hill and Richmond a chance to learn of this incident and to remember who still remains within the tunnel.
Multiple online sources say that the History Channel was interested in taking part in an excavation process, but due to concerns about further cave-ins and dangers posed to surrounding homes, the project was put on hold.
While we continue to research this story, you can find Stefanie's petition here, and her donation page here.