The weekend kicks off in a gray, damp fashion, but ends on a sunny note. Meanwhile, Isaac works across the Caribbean, presenting a forecasting headache for people from the Dominican Republic to Louisiana in the coming days.
If you've been following the weather in the tropics, or even just the news lately, you probably can't escape the big elephant in the room – Tropical Storm Isaac.
The short version is that Isaac is not a landfall threat for anywhere on the East Coast north of roughly Palm Beach, Florida. The current forecast brings the storm across Haiti and Cuba, and into the Golf of Mexico. If the storm does make it into the Gulf, landfall is expected somewhere between the Mississippi Delta of Louisiana and South Florida, with both the Florida Keys and Pensacola in the center of the cone of uncertainty at the moment.
I've got a more in-depth discussion below.
The Week Ahead
For the most part, Isaac isn't going to be a concern for us. Unless you've got travel plans to Florida this weekend, that is.
At the moment, a weaker, non-tropical area of low pressure developing off the Virginia coast is responsible for the cloudcover looming over the eastern half of the state today. On and off showers have been trying to crawl up the I-95 corridor this afternoon, but aren't very widespread at the moment. A few stronger showers have held up into Richmond, and we'll see more through tonight and Saturday. A ridge of high pressure returns on Sunday, bringing clearing skies and reduced rain chances. Temperatures will reach into the low 80s by Sunday, with lows in the mid 60s through Sunday night.
The clearing skies lead to warmer temperatures Monday and Tuesday, with highs climbing into the mid 80s and lows near 70. Expect conditions to remain mostly dry, though there will be an isolated thunderstorm chance both days.
Wednesday and beyond gets much trickier. The model guidance is generally bringing Isaac ashore and into the southeast Monday and Tuesday. An upper-level trough will slide into the Virginias by Wednesday, bringing a cold front and a chance of some widespread showers with the front's passage Wednesday and into early Thursday. We may see some additional precipitation in the form of Isaac's remnants, but that will depend heavily on where Isaac goes after landfall. Right now, there's a lot of divergence in the model guidance post-landfall, so this will be something to monitor, especially early next week. I'll post an additional update next week if it becomes evident that Isaac's remnants pose a significant rain/flooding threat for central Virginia. Temperature-wise, look for continued highs in the low 80s with lows near 70, assuming Isaac doesn't get in the way.
Ok, here we go. Here's the latest advisory from the National Hurricane Center at the time I'm writing this (4:00 pm EDT Friday):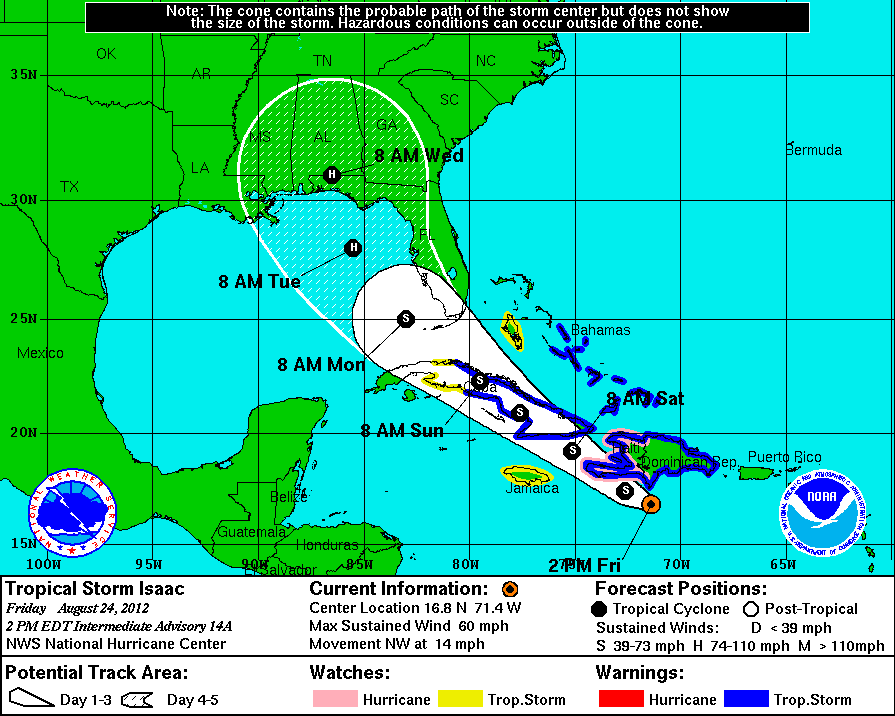 Isaac has been a difficult storm. It developed Tuesday morning, and has struggled to stay together since the beginning. It's fought dry air intrusion, and was still only barely a tropical storm as late as 5pm yesterday. Over the last 24 hours, however, especially since sunrise today, Isaac has finally begin to intensify at a better pace, with maximum sustained winds of 60 mph and a minimum central pressure of 995 millibars as of 2 pm. These improvements are a sign of a storm that may finally be really getting its act together.
Except that the situation is already changing, again. Now that Isaac is no longer in the open Atlantic, and is now less than 200 miles from Hispaniola in the Caribbean Sea, it's beginning to suffer from interactions with the mountains of Haiti and the Dominican Republic. These will interrupt the symmetric structure that Isaac has been trying to develop, and continue to limit how much Isaac intensifies further before making landfall either in Haiti or Cuba in the next 24-36 hours. It's not entirely out of the realm of possibility that Isaac may reach minimal hurricane status before weakening over land.
Beyond Cuba, the situation is questionable. The Florida Keys are certainly at risk, as is South Florida. You can see in both the NHC's cone of uncertainly in the advisory graphic and in the model spread above, how much Isaac reorganizes depends on how much time it spends over Cuba, and then how much time it has over the warm, energy-rich Gulf of Mexico waters before making landfall on the mainland US. A more westerly track will likely mean a stronger hurricane closer to landfall. An easterly track will mean less time to reorganize before reaching the Florida peninsula.
The bottom line is this: despite being "only" a tropical storm, it is a storm with a very large wind field and plenty of moisture to drop lots of rain. Portions of Florida have already seen plenty of rain in the recent weeks and are dealing with some river flooding issues across parts of western Florida. Heavy rain from Isaac will only exacerbate the issue, and tropical storm-force winds will be more than enough to bring down trees and utility poles in areas where the ground is already very saturated.
If you've got friends or family anywhere along the Gulf coast from the Mississippi River to the Florida Keys, now is the time for them to review their hurricane preparedness plans and supplies. Be prepared now, and be ready to act if state or local authorities decide to enact any safety plans.
I likely won't write another in-depth update regarding Isaac unless a heavy rain threat for Virginia materializes. That said, I can't stress the importance of having a plan in place for those who are in the path of this storm.
Stay dry, Richmond, and enjoy your weekend.