Featuring Charles Bukowski, Peter Ostroushko, The Four Dummies, Pete Rodriguez, Tappa Zukie, M.I.A, Wanda Jackson, The Routers, Art Linkletter, and more. (WARNING: This week's episode of The Bopst Show is not for those who are easily offended.)
Listen
Audio clip: Adobe Flash Player (version 9 or above) is required to play this audio clip. Download the latest version here. You also need to have JavaScript enabled in your browser.
Subscribe
Download
Title: The Bopst Show: Swiss Cheese (Episode 105)
Rating: X (Extreme Sexual Situations, Language, Profanity)
Intent: to be the only cheese you can bite into and miss
Quality Diversion: The company's recent hiring of baby geniuses, perhaps.
Suggested News Story Reading by Geographical Region: Sydney, Australia
Random Image: Inadequate Patient Monitoring
Random Music Blog: The B Side
Random Band: Zoogz Rift
Rant: We Must Be Doing Something Right
Artist/Band/Personality Not Heard On This Podcast:
Reason Why Artist/Band/Personality Was Not Heard On This Podcast: No Reason.
Construction Date: Wednesday & Thursday, June 2nd & 3rd 2010
Equipment: Mac G5, Free Audio Editor & Recorder Software from Audacity, Frontier US-122 USB Audio/MIDI Interface, Shure SM57 Microphone
Posted: June 7th, 2010
Artists and Groups in order of appearance: Charles Bukowski, Peter Ostroushko, The Four Dummies, Pete Rodriguez, Tappa Zukie, M.I.A, Wanda Jackson, The Routers, Art Linkletter, The Frogs, N.W.A, Paul Johnson, The Angry Samoans, Robbie Fulks, GWAR, Gogol Bordello, Nouvelle Vague, Mississippi Barry, Larry Pierce
Liner Notes:
Do not, and I repeat, do not click play or download this podcast if you are offended easily. This show will only cause you harm. To the rest of you, enjoy.
Here are some shows I'm hustling at Balliceaux this week.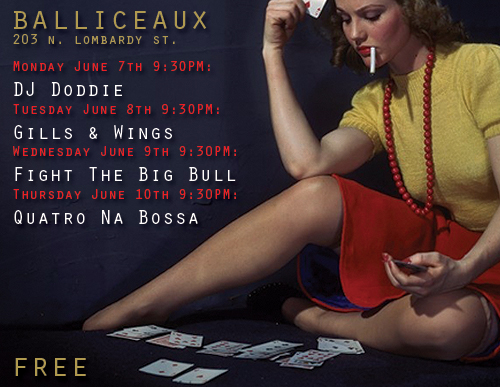 Monday June 7th 9:30pm: DJ Doddie
One third of the Richmond DJ Tag team known as Audio Ammo, Doddie spins the latest audio sensations to get the body moving.
For more information: http://www.myspace.com/djdoddie
Tuesday June 8th 9:30pm: Gills & Wings
"Gills and Wings are not for everyone. One needs to appreciate the theatrics of a band like Queen, but not the schmaltz of someone like Meat Loaf. It's a sound The Killers almost achieved before they veered wildly to the left. It's Marlon Brando as a Broadway musical. It's a helluva lot of fun…"

–Al Kaufman, Atlanta Music Guide
"Gills And Wings have a sound with enough Prog and Glam in it to be considered Retro but are fresh enough to fly fans of Modern Rock and Pop. You'll hear Freddie Mercury comparisons regarding MLV, and they aren't unfounded, but Reyes lays himself out in his voice in a way that is highly personal and rarely found in a vocalist who is simply mimicking another. Gills And Wings have a very bright future. The self-titled EP is a great start…"

–Wildy's World
Gills & Wings: "Rebirth of a Nation"
For more information: http://gillsandwings.com/
Wednesday June 9th 9:30pm: Fight The Big Bull
"An amalgamation of saxophones, trombones, trumpet, guitar, bass, and drums , Fight the Big Bull is a display of spontaneous emotion filled with powerful significance and baptized in the traditions of the music. They are a band with such a wide palate of emotions that your tin heart cannot escape being moved – a freaky gospel choir/dance band full of horns and love that you should never ever miss. They are also marvelous people who are very charming conversationalists and operate with the understanding that in a world flooded with production and marketing all people want is to hear the truth – Fight the Big Bull has a very big heart, too big to lie."
For more information: http://www.fightthebigbull.com/
Thursday June 10th 9:30pm: Quatro Na Bossa
Richmond's premier Brazilian Jazz quartet features traditional Bossa Nova with exquisite vocal and instrumental renderings – be ready to be transported to a tranquil place and time.
For more information: http://www.myspace.com/quatronabossa
All shows are free.
NEXT NEW SHOW: 06/14/10
The complete set list for this week's show is posted here. All previous show set lists (105 as of this writing) are on my blog. If you hate MySpace (and who doesn't), look me up on Facebook. I post track listings there as well.
2 hours of Bopst Show programming airs Sundays, 12-2PM (EST-USA), on KAOS Radio Austin.
Until Next Time:
Stay clean,
BOPST
[previous cat="bopst"]