The Dawson/Carnam domination of Supper Punch!!! has come to close, thanks to Sarah Bonkosvky and her much-admired sweet potato and ginger soup last week. Way to go, Bonko! And now, on to week 6…
Voting for Supper Punch!!! week 6 is now closed. Congratulations to our winner, Ross Catrow! Thanks to everyone who voted — and be sure to tune in tomorrow for week 7.
The Dawson/Carnam domination of Supper Punch!!! has come to close, thanks to Sarah Bonkosvky and her much-admired sweet potato and ginger soup last week. Way to go, Bonko! And now, on to week 6…
For those of you new to Supper Punch, here's how it works:
Each week, four local food enthusiasts submit two photos and a brief commentary (including helpful tips and prep time) on a recently-completed dish of their choosing. You, our readers, will then declare a winner for the week by voting in the comments. Your vote can be based on whatever you like: creativity, good use of local products, what you want to put in your belly at that exact moment, whatever.
Our competitors:
Sarah Bonkovsky, a gluten-free mother of three who loves to eat food from her own and nearby gardens. She also describes herself as "slightly lazy, distracted, and messy in the kitchen." Don't let her self-deprecating tone fool you — she can BRING IT.
Jennifer Carnam, Vice President of Marketing for the Richmond Metropolitan Convention & Visitors Bureau (RMCVB) with 30+ years of experience. She's a California native, a Boston Red Sox fan (by marriage), wife to Allyn, mother to Lex, and step-mother to Lincoln and Todd. She is also the most fun.
Ross Catrow, co-founder of local web design firm PharrOut, lover of beer, butter, and his family. He's perhaps best-known as the master and commander of the good ship RVANews. Occasionally he takes a picture or two (you can see documentation of his Supper Punch candidates here).
Nick Dawson who recalls early memories of watching PBS cooking shows while home sick from school. By day he works in hospital administration, focusing on improving on the patient experience; by night he is a fan of all things porcine, a curer of meats, a producer of pickles, and a lover of simple foods done very well. He describes himself as "passionate about local, sustainable foods and their producers."
Our current standings are:
Bonkovsky: 1 (winning week 5)
Carnam: 2 (winning weeks 2 and 3)
Catrow: 0
Dawson: 2 (winning weeks 1 and 4)
Let's get started…
Bonkovsky: Rock Cornish Game Hen
I've only recently started cooking whole poultry. I was a little intimidated at first, I'll admit. And for a while I wanted nothing to do with raw meat (those combined 27 months of pregnancy). Lately, I've come back to the idea, partly due to the encouragement of a friend and my sister who both seem to cook these little guys with ease. A smaller bird cooks more quickly so that means less forethought from me. I rubbed them with olive oil, lemon juice, rosemary, garlic, salt, and pepper, stuffed some lemon and rosemary inside and cooked them for about an hour. My house smelled incredible. For one of the sides I cooked some green beans with almost exactly the same ingredients as I put on the chicken. I also made some red quinoa with onions, chives, craisins, red wine vinegar, and olive oil.

My son especially loved eating this chicken. He has asked every night since then if we were having the leftover "hen". I think he liked seeing the whole bird and realizing a little bit more where his food comes from — heartless carnivore.

After dinner, I saved the leftover meat to be made into another meal and made a stock with the bones, some carrots and some celery. It's the dinner that keeps on giving.
Time spent
Prepping the hens: 10 minutes
Cooking: 1 hour
Carnam:Lemon-Rosemary Roasted Free-Range Chicken with Purple Sweet Potatoes in Orange Cups
Slightly cooler temps and a little bit of rain signaled all systems go for firing up the double ovens this week. Taking my daughter Lex's advice to task, I juxtaposed the sweet with the savory and indulged my fascination with fall colors. A 5 lb free-range chicken got stuffed with sweet onion, sliced lemon, and fresh rosemary from the deck herb garden. More rosemary and a little bit of butter went under the skin before I trussed the bird with kitchen twine to keep everything neat during the roasting and basting process. Always inspired by my muse, Julia Child, I made sure to baste the bird every 10-12 minutes throughout its 2 hour solitary confinement in the oven. (I basted with some melted butter and white wine until the juices started to flow, then used that.)

For the side dish, I hollowed out some navel oranges, reserving the juice. Meanwhile, I peeled and boiled purple sweet potatoes (because purple and orange look great together) which were then drained, mashed and beaten with egg whites, vanilla and orange juice. I filled the orange cups with the potato mixture, then topped with a combination of brown sugar, butter, a little flour and chopped pecans. After adding about 1/2 inch water to the dish, the stuffed oranges baked for about 30 minutes.

With a nice glass of Pouilly Fume, this dinner really hit the spot, and gave me just the fuel I needed for my Sunday night TV double date with Nucky Thompson and Don Draper.
Time spent
About 2 hours
Catrow: Tortellini and a Passable Tomato Sauce (with Arugula)
Guys. I was on vacation this whole week — it's a miracle I made even a single dinner, let alone something picture worthy. But somehow, between all the quality time with my child and wife, I managed to throw this together.

Something everyone should know how to make is a passable tomato sauce. This one is particularly easy: sauté some onions and garlic, throw in a can of diced tomatoes & a can of crushed tomatoes, and a couple tablespoons of butter. Cook for awhile until it begins to thicken up. You can fancify things up by adding any of the following: wine, meat (cook it first and sauté the onions in the fat), brown sugar, jalapenos, curry — I mean almost anything.

You can freeze the crap out of this too, or just keep it in your fridge and eat off it for a couple days. I used the leftovers on a killer pizza the following night.

As for the tortellini, sure sure it is store bought. I'm not trying to spend the next six hundred hours folding, crimping, and cutting pasta. Not my idea of fun. These particular guys came from Costco and contained a minimal number of ingredients I couldn't pronounce.

I tossed the pasta with some fresh Parmesan and a couple handfuls of chopped arugula. Bam, dinner.
PS: This week's photos were taken with the amazing toy camera application Hipstamatic.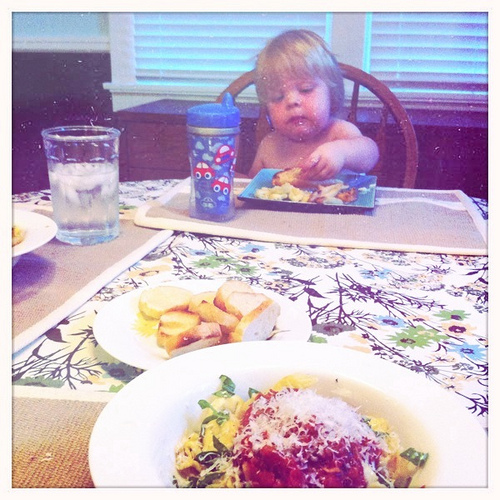 Time spent
40 minutes
Dawson: Beer Braised Knockwurst — Oktoberfest Style
Although Mother Nature does not seem to have read the post on her Facebook wall, it is indeed fall. Over the last few weeks, Germans have been celebrating the arrival of Autumn in style — Oktoberfest! Does it get any more quintessential than frothy beer and sausages? This week, I broke out the grinder — ok maybe I do that every week, everyone has to have a hobby, right? – and set about to make some fresh garlic and sage knockwurst.

Like so many of their porcine brethren before it, a shoulder of local natural pork when through the die of my grinder along with salt, sage, garlic, and chilies. Rather than use the traditional white wine, I opted for a generous dosage of Founders Breakfast Stout. The sausages were then packed into casings.

For dinner that night, two of the knocks were poached in the same Breakfast Stout until they reached about 130F inside. The sausages were transferred to a hot pan for a quick browning. Meanwhile, the remaining stout was left to reduce to a thick gooey glaze. The sausages went into some rolls lined with whole grain mustard, some home pickled onions that had been sweated down to a sticky mess and some Bubbies sauerkraut (if you don't know Bubbies pickles and kraut, run don't walk to the store and find them!).

Now, I'm a purest. From there I'd have called our German-inspired, artery clogging, heartburn-producing creation done. But, the gilded lilly called, as it is wont to do, so we topped these bad boys with some cloth-aged Grafton cheddar and stuck them under the broiler to get even more GBD (golden, brown and delicious). Just before serving, I drizzled them both with the Founders Breakfast Stout glaze — a newly invented, soon-to-be staple condiment in the Dawson house which seems to have more in common with Vegimite than anything else — pure umami!

Now, tell me you don't hear the oomph band playing in your mind? Happy Oktoberfest!
Time spent
1 hour
Wow. Tough competition this week. Leave your votes in the comments.