Ryan Kopacsi will return for his 16th season as the director of the VCU Peppas.
Update #3 — August 19, 2013; 2:06 PM
Ryan Kopacsi will return for his 16th season as the director of the VCU Peppas. Kopacsi announced his retirement via Facebook one week ago, but the VCU and Richmond communities wasted no time showing the 15-year veteran support.
Athletic Director Ed McLaughlin made the announcement Monday afternoon:
"Since my arrival last summer, it is clear to me how much value The Peppas bring to VCU Athletics and the university community. After several months of negotiations, we have agreed on a contract with Ryan Kopacsi to continue serving as director of the band," McLaughlin said. "While it is our policy not to discuss specifics of any contract, I am able to say that our agreement includes an increase in salary, compensation for undergraduate classes at VCU and first-time funding for an assistant. As part of the agreement, The Peppas will have an increased presence at many additional intercollegiate events as well as VCU Athletics corporate and donor events."

As VCU Men's Basketball has risen to prominence over the course of the last decade, so too have The Peppas under Kopacsi's direction. The band, which made an impromptu appearance on NBC's Today in March, has received praise from numerous members of the national media, including Rob Dauster of NBC Sports, Eamonn Brennan of ESPN and Matt Norlander of CBS Sports. The Peppas also won the "Battle of the Bands" at the Final Four in Houston in 2011.
— ∮∮∮ —
Update #2 — August 13, 2013; 3:07 PM
At 2:17 PM on Tuesday, Ryan Kopacsi made his first comment since announcing his retirement. It looks like Kopacsi is likely to return for his 16th season.
Sorry I havent said more but I have been working like a mad man.
I want to thank everyone for the overwhelming amount of support they have expressed through calls, email, text, Twitter & facebook. I intend to try and thank everyone personally because you all mean a great deal to me.

Ram Nation has always supported the Peppas passionately through the years but it's incredible to get support from college basketball fans from around the country.

I also want to thank VCU, who has reached out to me to continue discussions regarding my contract.

I hope there can be a resolution in the next day or two.

Thank you from the bottom of my heart.
Go Rams.

Ryan
— ∮∮∮ —
Update #1 — August 13, 2013; 2:12 PM
VCU Athletics released an official statement on Sunday afternoon:
"The VCU Athletics Department learned last night via Facebook that Ryan Kopacsi has decided to retire from serving as director of The Peppas. However, VCU Athletics has not received a formal letter of resignation from Ryan and continues contract discussions with him, working through the University process before a final decision is made.

We take all contract negotiations seriously and honor their confidentiality until a final agreement is reached."
— ∮∮∮ —
Original — August 12, 2013
After 15 seasons of leading "the best pep band," Ryan Kopacsi announced his retirement Monday evening on Facebook.
Kopacsi didn't invent the sixth man, but he mastered it in the stands of the Stuart C. Siegel Center where VCU owns the 12th-best home winning percentage in the nation. Before sellouts, the Final Four, and NBA draft picks, he was integral in building the culture of VCU Athletics.
Kopacsi took over the band at the age of nineteen. He took over before Shaka Smart, Anthony Grant, and Jeff Capel came to Richmond, and he even predated the Siegel Center. One of the most veteran members of the VCU athletics community, he was a force that fans ranging from the most die hard to the most casual could feed off of. While most bands played "Sweet Caroline", the Peppas played "Africa", "Tom Sawyer", and No BS! Brass tunes. While most directors kept their clothing on, Kopacsi would enthusiastically shed layers on national television.
An invaluable ambassador for VCU, Kopacsi's enthusiasm could capture the hearts of neutral fans with one measure of music. It did not matter if it was Dayton, Chicago, San Antonio, New York, or Portland, he always found a way to catch even the most passionate Ram fans off guard. He regularly led the band to non-VCU events like the Monument Avenue 10k and the Redskins training camp, but his best moments were when the band hit the road for post season tournaments: playing the streets, an infamous river boat ride, and even crashing the Today Show.
Like Coach Smart, Kopacsi built a brand and a culture at VCU. The band will live on and find success under a new director because of a decade and a half of his tireless work, but the Stu may never feel quite the same. Here's to Ryan Kopacsi, may he find success and happiness in the future.
— ∮∮∮ —
Photos by: Will Weaver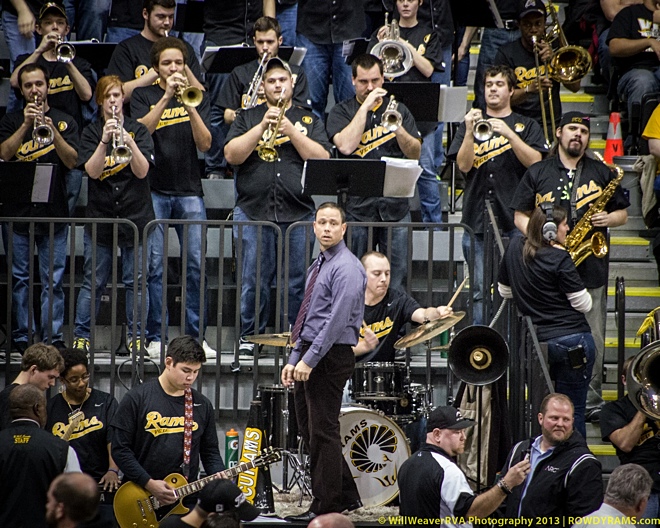 To stay up to date on all things VCU Basketball related, follow @rvaRAMnews on Twitter or Facebook and sign up for our email newsletter.