Richmond chefs are bringing their own, home-grown produce to the table.
Michael Eldridge surveys his modest East End garden plot. A black lab, Bernie, lazily ambles beside him as he sinks his bare feet into the soft soil. There isn't much going on in the dirt, at least not in any way that we can see it yet. There's one row of arugula and four other freshly-tilled rows in various stages of being planted, but Michael's personal vision for the garden is vivid–a 'Three Sisters' configuration of corn, pole beans, peanuts, and squash; beds of kale and arugula; a row of cilantro, dill, and basil; and carrots in the fall. In the months to come, he'll surround the plot with rows of clover and wildflowers to support a beehive in later seasons. Michael is the manager of Goatocado Gardens, two separate garden plots that have already supplied enough arugula for over 400 of Goatocado's beloved quinoa bowls in the short time since their first harvest in April.
Michael met Goatocado's founders Jarrett Evans and Ian Newell while studying sustainable agriculture at J. Sarge, and they quickly came up with the concept. "We had the resources." Jarrett explains. "The most nutrition comes from produce that's been recently harvested, especially in the case of greens," and that's a big priority for Goatocado–whose mission focuses on health and wellness, as well as sustainability.1 Michael says his growing practices support Goatocado's environmental philosophy, explaining, "There's no input that's not plant-based, no manure."
For Jarrett and Ian, a garden is a natural extension of their 'lifestyle brand' and a unique marketing opportunity that provides food-cost-reducing dividends. But harvesting enough fresh produce to sustain their demanding schedule would be a much bigger undertaking, one they hope Michael can develop full-time upon graduation. To meet their needs until then, Jarrett works with Origins Farm, Pair-A-Dice Farm, Bella Grove and other fellow market vendors for greens, eggs, and tomatoes.
The Goatocado guys are in good company among Richmond chefs who are bringing their own produce to the table. Joe Sparatta has a basement grow room of micro-greens and edible delicacies just starting to sprout, Travis Milton and Jason Alley have recently started working one of their three shared acres in Goochland, and Mel Oza tends a 6' by 8' home garden for use at Curry Craft. For them, growing their own means controlling essential factors like food cost and availability.
"I was tired to paying a lot of money for something I could do myself," Joe Sparatta explains, scooping soil into a seed starting tray with a plastic quart container. He's surrounded by a couple hundred dollars worth of Johnny's seed packets–organic seeds for specialty crops like red ribbon sorrel, micro beet greens, nasturtiums, and a weird little plant called a lemon drop that supposedly has medicinal value. Tending a garden is something with which he's well familiar, having spent five formative years doing so on the critically-acclaimed Ryland Inn's 4-acre farm.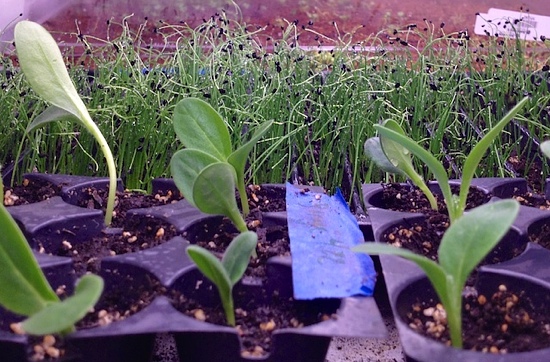 "I always like having a little project to work on," says Joe as he opens the door on a brightly-lit closet, the smell of soil and chlorophyll mixing with the musty cellar air. In this small grow room, Joe has borage and micro-scallions reaching up toward florescent lights, their seed coats still attached. "Once we're ready to put these in the ground, they'll go to Victory Farms," with whom Joe has been working with since their return in 2012. "They're great. They'll grow anything for me."
Joe, who now has good working relationships with local farmers like Charlie and Gina Collins of Victory and Al Merrick in Dinwiddie, found working with local farmers challenging upon his arrival to Richmond. Joe set out for the farmers market in pursuit of local produce to serve but was dismayed to learn that some of the farmers saw restaurants on par with retail customers, not as a cross-promotional wholesaling opportunity: "I would try to buy tomatoes from the farmers market, and they would tell me '$3/pound.' I'd say, 'That's what you're charging retail; I want to buy 20 flats,' and they'd say '$3/pound.'" Lack of pricing flexibility, consistency, and reliability frustrated Joe in those early days.
"It gets tough when six or seven restaurants are dealing with the same farm. It's hard to get what you want on a consistent basis when everyone is competing for the same things," says Comfort's Travis Milton, who sees farming as a way to connect to the foods that inspire him and inform his menu: "The bulk of what I do revolves around Appalachia. There are many things that I can readily get back home but no one grows up here."
Travis, along with Jason Alley and Harrison Keevil are starting small with the three acres they share in Goochland, on Keevil's parents' horse farm. "We didn't want to get too far ahead of ourselves this first run, so we are planting a lot of things that make sense for all of us and aren't 'needy' crops. I have several varieties of heirloom tomatoes from back home that I've started from seed that will be going into the ground this week. We will also be doing candy roaster squash, a rare Appalachian heritage breed of squash."
Variety and menu relevance are key factors in determining what these chefs will grow: "I have focused a lot on beans–I have ten varieties of Appalachian beans such as lazy wife greasy beans, turkey craw beans, tobacco worm beans. It'll have a lot of peppers as well, since all three of us make hot sauces from scratch, as well as turnips, lettuces, greens, and herbs."
"The bounties from the garden help me elevate our tasting menus to another level," Says Curry Craft's Mel Oza, "Especially when I have a sizeable batch of curry leaves and certain chilis to use, it makes a huge different to the menu." For Mel, growing heirloom tomatoes, various chiles, and cilantro for flower and seeds is a therapeutic diversion from the demanding pace of being a chef and restaurateur. He supplements his menu with fresh fenugreek and mustard greens that he grows indoors, and he continues to work with farmers like Kristi Orcutt at Bright Hope Farm and Apiary to supply specialty items: "She makes our honey that we use here, besides growing edible tulips that we have used…For this summer and fall she is planning to grow various vegetables, tomatoes, and herbs too."
Travis points out that most chefs aren't exactly flush with spare time. They will have to find a way to balance their responsibilities in the garden with their demanding daily schedules, and supplementing with produce from other local farmers will be necessary: "In obtaining good local produce there are always a couple of snags, and having the farming/garden operation definitely doesn't mean we won't be buying from or supporting the local farms that we all deal with already."
Dealing with local farms is about to get easier for busy Richmond chefs, thanks to Local Food Hub, a non-profit food aggregator in Charlottesville that connects farms to restaurants and institutions. The issues that confounded chefs like Joe and Travis about sourcing produce from small producers are precisely what Local Food Hub has been addressing in Charlottesville for the past five years, and they're bringing their mission of sustainable local food distribution to Richmond.
Alan Moore, Local Food Hub's Director of Distribution and Business Development says that having an increased presence in Richmond is part of the hub's plan. "We already work with Ellwood Thompson's; University of Richmond; and groceries like Union Market, Little House Green Grocery, and Harvest Grocery + Supply. We're available to restaurants through Cavalier Produce at this point," and they plan to develop more relationships with both Richmond restaurateurs and food buyers as well as Richmond farmers. "If we've got a truck coming back from Richmond, it doesn't make much sense for it to come back empty," says Alan.
Local Food Hub also provides education on food safety, packaging, and handling to ensure consistency from farm to farm and then lets the growers do what they do best–work the land and grow their crops–without having to focus as much attention on administrative tasks. "The role we end up playing is facilitating farmers making what they're making. They don't want to be delivering. We can help play that role while keeping everything directly connected back to the farm."
What some consider to be a culinary trend, cultivating their own gardens is something that these chefs take seriously. The experience of creating a dish not just from scratch but from seed is one that is deeply meaningful to each of them. But the chefs won't hang up their whites for overalls any time soon, and there's still a great need for local farmers and for resources like Local Food Hub to connect the farms to the people.
Photos courtesy of Goatacado and Heritage