Just because it's a local tradition, doesn't mean they're phoning it in. This year's production of The Nutcracker is the real deal, and to this Richmond native, it means the season has really and truly begun.
Surely I'm not the only one who puts The Nutcracker on a magical holiday pedestal. Of course I'm not; it's a classic. But I'm in a fairly unique position to observe the progression of one professional ballet company as they recycle the same material they were performing to me as a child into a fresh production that impresses me as an adult.
And I'm a tough critic. Having seen the Sugar Plum Fairy tiptoe out in her lavender garb probably close to 20 times, I bite my nails every time the show starts. From the Richmond Symphony's first strains of Tchaikovsky's famous overture, I am ready to pounce on any element that threatens to disappoint the eight-year-old in me that used to look forward to this evening for an entire year.
This time around, eight-year-old Susan is thoroughly satisfied but, honestly, a little weirded out by how into the whole thing thirty-year-old Susan was. But I'm telling you, grown-ups, The Nutcracker still rules it. Artistic Director Stoner Winslett's legendary brainchild has only changed for the better, incorporating compelling dance into a children's production so dazzling that you wonder if they talk about anything else for weeks.
Luckily, the original E.T.A. Hoffmann story is so weird as to not require any real explanation to kids. "What? A little girl gets a nutcracker from a magician, toys have a war, and then she ends up a princess in a kingdom of sweets. What's the problem?" Now that's the kind of story kids can get behind.
And in the Richmond Ballet's 2010 production of the classic Christmas tale, if anyone's tired of doing the same old thing year after year, nobody looks it. The company rotates roles, but in the production I saw, the traditional stars were undoubtedly spirited and technically perfect. Maggie Small's cheerful Sugar Plum Fairy (and if they don't call her the SPF backstage, I will be very disappointed) flowed beautifully with Fernando Sabino, and while their combined performances were a little less evocative than they were during the Studio Series this fall, they played the gracious sprite and her lucky fella to perfection.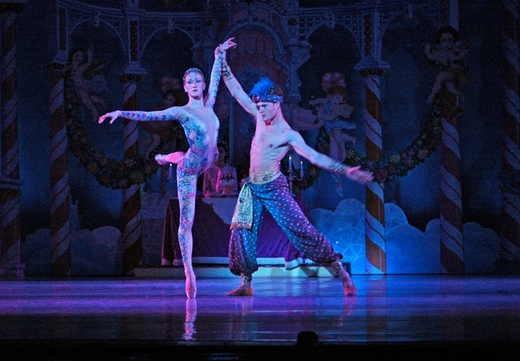 Lauren Fagone and Phillip Skaggs in The Nutcracker. Courtesy of Richmond Ballet. All rights reserved.
Likewise, Lauren Fagone and Phillip Skaggs arched through what always felt to me to be more passionate choreography as the Snow Queen and King, ending the first act with that dramatic lift as Clara (who at my production was played by the young Bryanna Krause) and her little prince rode an icy sleigh between two lines of snowflakes, bowing with respect as flurries drift through the air. I love the sleigh, I love the snowflakes, and I love that image, but I always felt that Clara and the Nutcracker Prince could be directed to at least pretend to chat with each other instead of staring into the distance with fixed smiles on their faces.*
The most interesting thing I learned by re-watching as an adult these past few years is that the parts I deem the most enchanting and the most thrilling have shifted dramatically over the last twenty years or so. As a kid, I nearly went nuts trying to sit through the Arabian Dance, with the snake charmer and his body-suited serpent partner. This time around, I felt the kids around me getting antsy in their fine holiday wear, but the adults were clearly spellbound. Valerie Tellmann, so often the sparkling leading lady, obviously enjoyed slithering around Kirk Henning, and the effect left jaws hanging open. The applause afterwards was punctuated with "Bravos" that, unless I miss my guess, sounded almost panicky in their enthusiasm.
Kids will lose their tiny minds over Mother Ginger and her enormous skirt as well as the Chinese dragon and Russian bear, but, as marks a fine production, there's more than enough in it for everyone. Wearing one of the best costume innovations the Richmond Ballet has had, relative newcomer Cody Beaton shone as the Butterfly during the sweeping Waltz of the Flowers. And, though not playing a large role, Thomas Garrett was oddly magnetic as Clara's father, Dr. Silberhaus.
The relocation to the Carpenter Center from the Landmark Theater allows The Nutcracker to really pop in a smaller space. My last experience was in 2008 on a Saturday night at the Landmark, surrounded by a half-full house. It felt lackluster and cavernous. But the more intimate and, frankly, more beautiful venue brings the vibrant sets and utterly magnificent costumes to life.
As is so often the case, any performance backed by a live orchestra always delivers more of a punch, and the Richmond Symphony played the familiar score well. However, I couldn't help feeling like they were being held back, unwilling to turn the louder swells up to eleven. Perhaps it's so as not to scare the children, but the soaring production value seems to warrant the symphony without its safety on.
I'll be back next year (and possibly next week) for the glittery, graceful Richmond tradition. But you've got some more time left to check it out, even if it's for the twentieth time. You don't see snakes like that every day.
*A little more Aladdin and Jasmine on the flying carpet, and a little less waxwork.
The Nutcracker runs on Fridays, Saturdays, and Sundays through December 23 at the Carpenter Center at Richmond CenterStage. Stop by Richmond Ballet's website for show times and ticket details.
(Featured image: Richmond Ballet dancers in The Nutcracker, 2008. Courtesy of Richmond Ballet. All rights reserved.)