Twelve of the best pictures from our little boy's life (so far)…
We've got a new bedtime tradition in our house. After our son JR takes a bath, brushes his teeth, puts on his pajamas, and carefully selects his clothes for the next day, he and I snuggle up to read a few books before turning out the lights to watch a video or two on my phone.
Usually we rely on The YouTubes to find the music videos for his favorite songs (this and this are current obsessions), but the other night I decided to surprise him with something different. You see, to commemorate each of JR's birthdays, I put together a little video montage of photos we've taken of him from the previous year.
Yes, yes, I know, how very mommy blahhhhhhg of me, but I love them. I knew JR would, too.
That night we watched each video1 through a couple of times–JR pausing them every three seconds to ask about the pictures, me trying to (and failing miserably at) fight back tears as I filled him in.
It all left me feeling quite warm and schmoopy, but mostly just very, very thankful for the many great moments we've managed to rack up as a family in just four years. So much so that I can't help but share at least some of those moments (and how they fit into our family's story). I hope you enjoy them…and thanks for indulging me.
— ∮∮∮ —
JR was born on a Monday. We were home by Thursday, but a slight case of jaundice required us to take him to the pediatrician that following Saturday for a check-up. Here he is before we got him all bundled up to head out the door. It was the first time our 10 pound, 2 1/2-ounce chunk of a baby actually looked small. And also old-mannish.
— ∮∮∮ —
I went back to work about seven weeks after giving birth, so JR spent his fair share of mornings with me in the office. Most of the time he loved it; other times he preferred to make this face at me, just to keep my parental guilt nice and palpable.
— ∮∮∮ —
When JR was about eight months old, we took a trip out to Iowa to see my husband's cousin get married. Our four-day excursion involved lots of planes, lots of driving, and lots of not napping. JR did well overall, but right around check-out time on our last day, he totally crashed. It left my husband unable to offer much help packing, but after seeing him snuggled up with our baby boy like this, I couldn't get too annoyed.
— ∮∮∮ —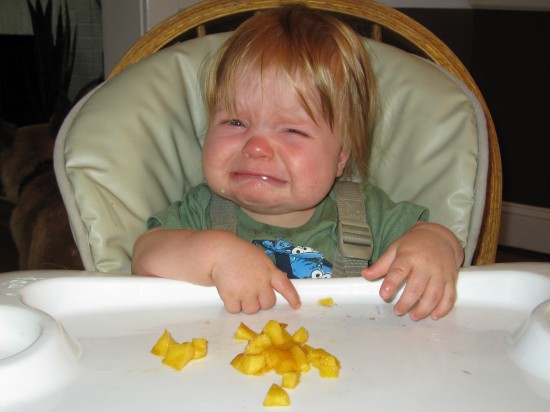 Can you believe I made him eat nectarines? I'm such a jerk.
— ∮∮∮ —
First smiles, first steps, and first words are all the rage, but nobody talks about how great it is to see your child experience the beach for the first time. Sure, we were cleaning sand out of JR's fat rolls for days, but it was totally worth it.
— ∮∮∮ —
When you become a parent, you're required to take pictures of your kid in the bathtub, their hair sculpted into ridiculous styles. This is just one of our contributions to that tradition. And perhaps the most adorable one in history?
— ∮∮∮ —
The stance. The face. The saggy romper. Who knew spending a few minutes outside to play in the leaves would create such an epic image?
— ∮∮∮ —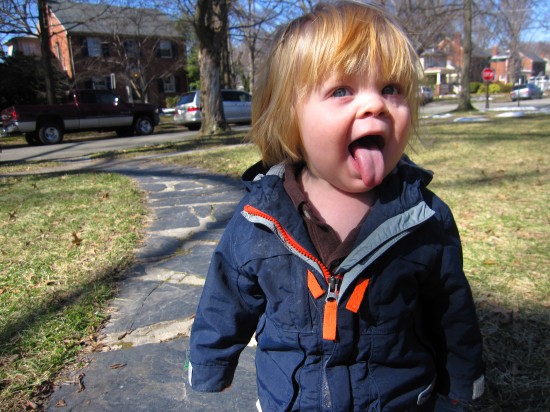 JR spent his second week of life as a full-time daycare kid at home, flattened by a cold and a double ear infection. The poor kid didn't babble, laugh, or even smile for seven days straight. This picture documented his first trip outside after the antibiotics kicked in and he finally started to feel better. He was positively giddy…as were we.
— ∮∮∮ —
Most of the time when you take a second to glance down from dinner prep, you find that your kid has dismantled the kitchen cabinets or something. But there are those special occasions when you find him patiently reporting for duty.
— ∮∮∮ —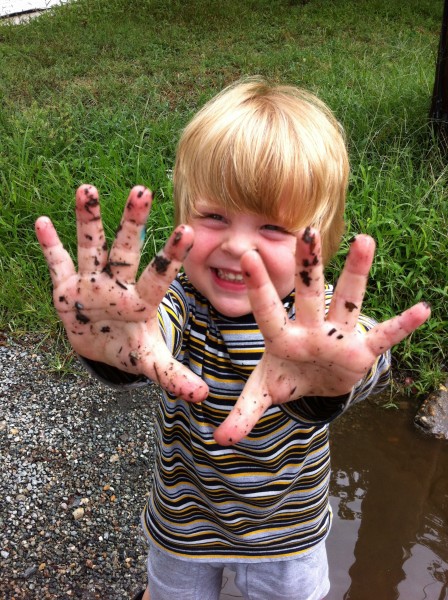 Anytime our finnicky child gets excited about messes must be celebrated.
— ∮∮∮ —
Just a couple of introverted boys, staring at the water, not speaking…and loving every minute of it.
— ∮∮∮ —
I took this last summer as JR and I shared a post-nap snack out in the backyard. His smile knocked the wind out of me–still does each time I look at this photo. He looks so big, so handsome, and so happy.
— ∮∮∮ —