Karl Morse, a 23-year-old guitarist from Ashland, will spend 10 months teaching and performing in Qatar, a small country in the Middle East which, up until recently, was a musical and cultural desert. Here he shares his thoughts about his upcoming stay there and what he hopes to get out of it.
Out of sight and very much out of mind for most Americans, western knowledge of the Middle Eastern peninsular country Qatar is proportionate to the country's size — it's smaller than Connecticut. Like its bigger Arabian neighbors, Qatar is known for its oil production and its hot desert climate, which nears an average of 130 degrees Fahrenheit in the hottest two months of the year. That's so hot, most of the country's large expatriate population flees in the summer to escape the hellish heat.
For the remaining ten months this year and next — while it's not as hot — guitarist Karl Morse will be living there on a teaching and performing contract. The 23-year-old Ashland native and Virginia Commonwealth University alumnus will become one of only a handful of musicians that play the majority of music gigs private and public in the city of Doha.
The capital of Qatar, Doha houses Education City — a complex of campuses for several American schools including VCU — and, up until recently, was a musical and cultural desert. Around the time that the Emir of Qatar Sheikh Hamad bin Khalifa Al Thani brought forward his vision of molding Qatar into a cultural capital with a Museum of Islamic Art, British trumpeter Chris Coull made his way to Doha to bring change to the city's music scene, laying the groundwork for real live music to replace the norm: canned music accompanying solo singers. Artificial cheese product was out, Gruyère was in.
Coull's foundation now provides careers for musicians who are in demand for both teaching and entertainment purposes, which Morse and I got to see during a short trip to Doha in November 2008 with a small jazz ensemble from VCU. In less than three weeks and nearly two years since our visit, Morse will return.
What was your experience like culturally when we went to Qatar, and what do you expect to find when you go back?
It's wild. It's a weird contrast, because you feel like you're very far away from America in a very exotic place. At the same time, you feel some strange similarities too, because it's become so modernized. Traffic, skyscrapers, mobile phones, SUVs. It's very much an Arabian desert Islamic country. I knew there was the oil wealth that's funding this rapid growth. It's just a weird mix.
I feel like there aren't as many lifestyle changes that I personally will have to make, [compared to when] we went over, although we were only there for a week. I think I can pretty much live the life I do. I'm not a rowdy type. I'm not a religious type. So obviously there will be changes out of respect for the culture. Everybody seemed really friendly when we there, which is a good sign.
I've been talking to Hallvard, the guitarist over there right now whose place I'll pretty much be taking. He's saying everyone is friendly and we'll be staying busy but it's a pretty easy life. People come up and greet you on gigs and seem appreciative. He fishes a lot in his spare time, which I was kind of surprised to hear.
I'm kind of a food nerd, so I'm excited to try and sample… I know there's a bunch of different cuisines catering to the Southern Asian laborers, Indian and Filipino residents.
I'm also really worried about driving.
You'll have to drive?
Not initially. Hallvard will be there for the first two months that I'm there. I'll have a private driver to and from the school. But I'm responsible for my transportation for gigs in the evenings. Hallvard's helping out and I'll have taxis when I first get there. But I'll have to buy a car once he leaves, and then I'll be responsible for driving to gigs. But all the traffic roundabouts, and everyone bringing their own customs. That's a little intimidating, but I'll be forced to get the hang of it. It's just a little scary. As a foreigner, if you get in a wreck with a Qatari, it's your fault. Apparently they have really strict laws — not that anyone follows them — to try and curb the high accident rate. I read they're trying to replace roundabouts with stoplights, but I expect a lot of them to still be there when I get there.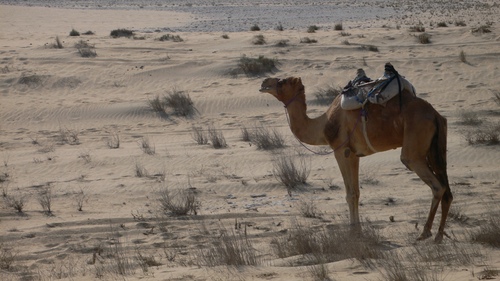 How about musical expectations? When we were there, we heard that the jazz scene before Chris Coull was pretty much karaoke, or playing to tracks. Then Chris came on and created this scene.
I guess he did make it. How he got these contacts to get people over there is beyond me. I don't know his history or start up, but it's very interesting. From what I gather, the pool of musicians is very small.
And so is the pool of people who appreciate live music, wouldn't you say?
Yeah, probably. From what I gather, it's not like the audience will be a lot of natives or locals. It's going to be people in hotels, hotel bars, the occasional private event. But it will be a pretty international crowd. I'm sure there will be some more concert vibe nights, but it's definitely kind of a background gig.
How about the teaching part? Is that the majority of your contract?
By sheer number of hours, yeah. I'm teaching five days a week and I'll have about 40 students a week. From what I gather, it's an after school type thing, I guess for a lot of the western and expat schools, whoever speaks English. That's at the International Center for Music, which is just a villa with a bunch of private studios, so I think there's an international bunch of teachers. The guy who's hiring me for that has been pretty non-communicative. I've gone through Chris for everything.
I was going to say, it sounds like a lot is still up in the air, and you'll find out the rest when you get there.
It kind of is. I've pushed for more details. It really has been a push. Chris tells me that's reflective of the culture: very laid back, and deadlines and appointments are lax. I basically harassed them to get a written contract, which they didn't care if I signed or not. The visa stuff is still not completely squared away. I think they do visas upon arrival, but I've heard conflicting things. We'll see! I've had two emails with the head of the school the entire time. Two emails. Probably a hundred with Chris. He's been helpful and patient as I badger him with questions. Chris has been very specific, so that's been good, but there will still definitely be a degree of, "Oh, this is how it will work, I wish I had known about this."
The teaching thing should be cool. I suspect it's a mix of some talented kids who are actually trying to do something and run of the mill kids.
Like anywhere.
Yeah. I have so many students that I don't know if it's tied into their school or if it's all voluntary. That might have an effect on the level of interest. It is what it is. I'm used to teaching kids who don't really know why they're there. That will be on a western school schedule with western holidays. With three or four gigs a week, I'll be staying pretty busy.
Hallvard has said that since we were there, the pool of musicians has gotten better and they're playing at a higher level, which is good. No backing tracks. Chris sent me a packet of spiral bound notebooks of music just to check out. A lot is going to be standards, jazz originals, and also the same crop of backing vocalists. There's also a salsa folder, a Blues Brothers show, and then a funk-fusion band. The amount of the music they're playing and the genres are increasing. Maybe that's a reflection of some audience actually wanting to hear a specific type of music instead of just throwing an ornate Middle Eastern party and needing it to look good with a band.
I'm going to be playing bass on some gigs, which is also a reflection of the small pool of musicians.
You just started playing mandolin. Are you bringing that?
I just bought my new mandolin to shed over there. Hopefully I won't be living next to sensitive neighbors, but I'll be in an apartment complex with other workers and people my age.
While I have a girlfriend and friends over here who I love spending time with, I'm kind of looking forward to some degree of isolation and time to myself. I'm living in an apartment by myself, so I'm looking forward to some time to really dig into stuff musically in my off time, even though that won't be as much as it could be.
I've also always wanted to travel. [Doha is] not the most happening city, and it's not my first pick of destinations. But I didn't dislike it there.
It's central to what seems like tons of travel destinations. Will you have the opportunity to travel?
That's up in the air. That was another thing that was not really laid out in stone. I know I have four weeks of vacation time spread out through the contract. I really want to take that time if I can to travel. I'd love to get to Turkey while Skip is there and have him show me around and to try and play with those cats.
Where else would you go?
That's a good question. Dubai is a 45 minute plane ride, but I don't know how much I want to go there. Right now, it seems to me to be like a more beefed up version of Doha. I'd love to go to Cairo if I could to do the whole pyramid thing. Athens isn't too far away. I don't think it's going to happen, and I don't know if I'm the seasoned traveler to make it happen the right away, but I'd love to get to India. I'm really into Indian culture and their food. That might be unrealistic, but it would be a pretty crazy experience. I don't know I'm ready to make that trip solo.
Hopefully this will lead at least to friendships, but some kind of connections with some European cats. There are some Americans over there playing music, but Chris is British, Hallvard is Norweigan, there's a Czech guy. And I've always wanted to go to Europe.
I'm also interested in seeing if there's any kind of native music.
We did a little bit of searching when we were there.
Yeah, in the sukh [market]. Whether it's native to Qatar, I don't know. I didn't get the sense that it's very prominent. There might be some ritualistic uses for special occasions. I'm excited to see if I can't find a native music.
I've always found you to be a really fluid player who can shake things up. So how would you characterize your own playing, and how do you feel that your style has been shaped?
I appreciate that. That's not something conscious that I think to myself. But I definitely think it's due to the fact that I listen to so much different music that has different appeals and not just kind of a more standard, "I just gotta listen to this jazz vocab" approach. I definitely like to pull from certain things, like some drama from rock music. I'm not much of a classical player, but I really admire some harmonic elements from that. The dynamics. I try to pick up from that a little bit. Also, [guitarist Adam] Larrabee helped me lately with some stylistic points kind of related to that as well, just drawing from different inspirations.
Listening to different musicians, or listening differently to music you already know?
It could be as simple as a Joe Pass thing that I've been listening to for five years. Phrasing was a big thing that I worked on a little bit consciously, but then I developed my own sense of it. Fluid phrasing, logical phrasing with a direction, a discernible beginning and end. That was one of my problems. I feel like it is for a lot of guitar players: just spitting off stuff, not connecting the dots and not finishing an idea.
For me, I'm not someone who has some crazy natural ear or ability on the instrument, so it's easy to fall into traps that the guitar presents for you whether they are licks or positions or ways of constructing chords. Definitely music school in general helped, but Adam and Skip [Gailes] helped me with that, too. Playing with Skip almost every weekend for a while at the Jefferson [Hotel] helped, too, because he was definitely candid about what he liked and what he didn't like.
That gig was always very friendly and low key. Not everything I played worked obviously, but that helped open my ears up. [Skip] would test my limits and easily found out what I was capable of hearing and responding to. Even though he probably dumbed down some stuff, he still challenged me.
And lately I've been playing a lot of mandolin.
Which probably requires you to think a little differently.
Yeah. I'm trying to make it a return to more innocent days of following your ear and not really knowing much about the instrument, coming up with ways of doing it instead of having this ingrained set of tools that you know you can use. That's slow going because I'm not gigging on it and don't have a lot of outlets for it yet, but it's been fun.
To keep in touch with Karl, email karlkmorse AT gmail.com.
All photos by Dean Christesen, except the last by David Ashby.