Run, jog, walk a race and get a beer on a Sunday evening.
The Hardywood Twilight 4 Miler, presented by Shake & Bake Sports, takes place on Sunday, April 27th starting at 6:30 PM. This race is a casual good time that starts and finishes at a brewery so beer is involved, which is a good thing.
The race is reserved for 3,000 but you know that lots more will be showing up to drink beer and using the excuse of being a supportive friend, spouse, significant other. To handle the extra cars Hardywood and the Squirrels will be allowing parking at the Diamond's Green Lot.
If you're itching to see where you'll be running check out the map below or the larger version online.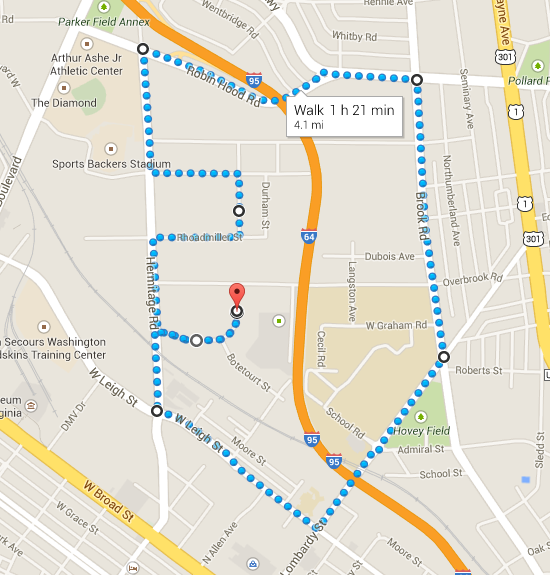 The after party will feature local food trucks (including King Of Pops – Richmond, Mosaic Restaurant – Richmond, Pizza Tonight, The Dog Wagon, Cielito Lindo, Super Fresh Carts, BoDillaz, Paris Creperie rva, Curbside Creations Food Truck, RVA Vegan) and a live set of Alt. Country/Americana/Folk Rock from Richmond's own Exebelle & The Rusted Cavalcade.
The weather is looking perfect so lace up your running shoes or your drinking shoes and in some cases both and head to Hardywood.
Head over to the website or Hardywood Twilight 4 Miler for more information on the race, the party and registration information.