Despite Scott Pharr's hand pollination tutorial and John Sarvay's championing of raw foods, Ryan Smartt walked away with a solid victory last week. Whose greens will reign supreme in round three? Come take a look and cast your vote!
Despite Scott Pharr's hand pollination tutorial and John Sarvay's championing of raw foods, Ryan Smartt walked away with a solid victory last week, putting our standings at:
Sarvay: 0
Pharr: 1
Smartt: 1
We're not naming names, but SOMEONE needs to step it up a little.
(*cough**cough*Sarvay*cough**cough*)
Now, for those of you new to Garden Wars, here's the deal…
John Sarvay (of Floricane and Buttermilk & Molasses), Ryan Smartt (of ConnectRichmond), and Scott Pharr (of PharrOut and RVANews) face off each week as they showcase images of their agricultural efforts, complete with clever(ish) captions. Then you, the readers, decide who wins. Whoever has won the most number of weeks out of the three-month run of this series will be treated to a meal by the losers.
We declare this, the third week of Garden Wars UNDERWAY!
Sarvay
Full-disclosure: Thea harvested and ate the last of our spring peas before I could get my hands on a camera, and we also picked our first crop of green beans this weekend. The last batch of kale is scheduled to join some garlic, olive oil and black pepper linguine for dinner tonight. It seemed a good time to take a breath and enjoy the flowers. Here's my early bird daughter enjoying an arrangement of lavender and mint from our garden. (Thea woke at 4:30 Sunday morning ready to go, and I grudgingly climbed from bed at 5:30 to take this photo and spend the morning with her. Check our her shiner – attacked by a can of black beans pulled from the counter!)
While we wait for our vegetable garden to make the transition to summer, we've been enjoying the flowery fruits of our garden labors – including an ocean of lilies along the side of our yard. The traditional Virginia orange daylilies are offset by a smattering of fancy, upscale lilies in shades of white, pink, deep red, and yellow.
My grandmother had a blue-and-purple hydrangea bush in her backyard in Bellevue when I was little, and the tiny nods to memory I planted five years ago in my Northside yard have now mushroomed – both of my hydrangeas fill a corner of the yard.
Pharr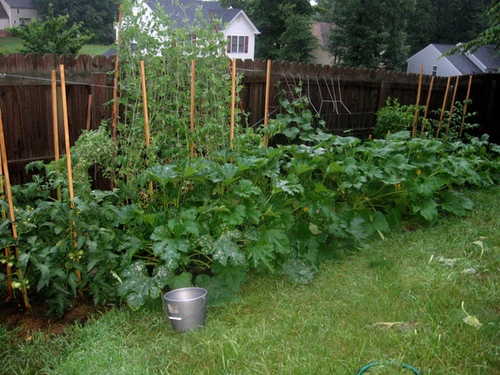 So this is the full view of my backyard garden. I actually have 12 tomato plants back there, you wouldn't know it because my squash decided to overthrow the entire kingdom.
How could I go one week without talking about my squash? This week, I could LITERALLY give you 18 reason's why. No joke. I guess I'll continue to SQUASH my competition, at least in that category. (I know, lame joke.)
Having an 18-month-old (I love the number 18) trying to pose for a picture is difficult, especially when the game is "pull off as many green tomatoes as possible." She got sent to timeout. JK JK.
Smartt
So young and cute. It's a shame they'll eventually be diced up, added to delicious Pico de Gallo, and go straight into my BELLY.
I guess I won't be going to Scarborough Fair – Parsley, (no Sage), Rosemary and Thyme.
Lyla works for minimum wage. And by minimum, I mean stickers and animal crackers.
There you have it, readers. Cast your votes in the comments and tell us…
WHOSE GREENS REIGN SUPREME?!?!?!