Stephanie Ganz went a-foraging, and so can you. Or…if you don't feel like it, you can just eat the dinner that foraging chefs prepared!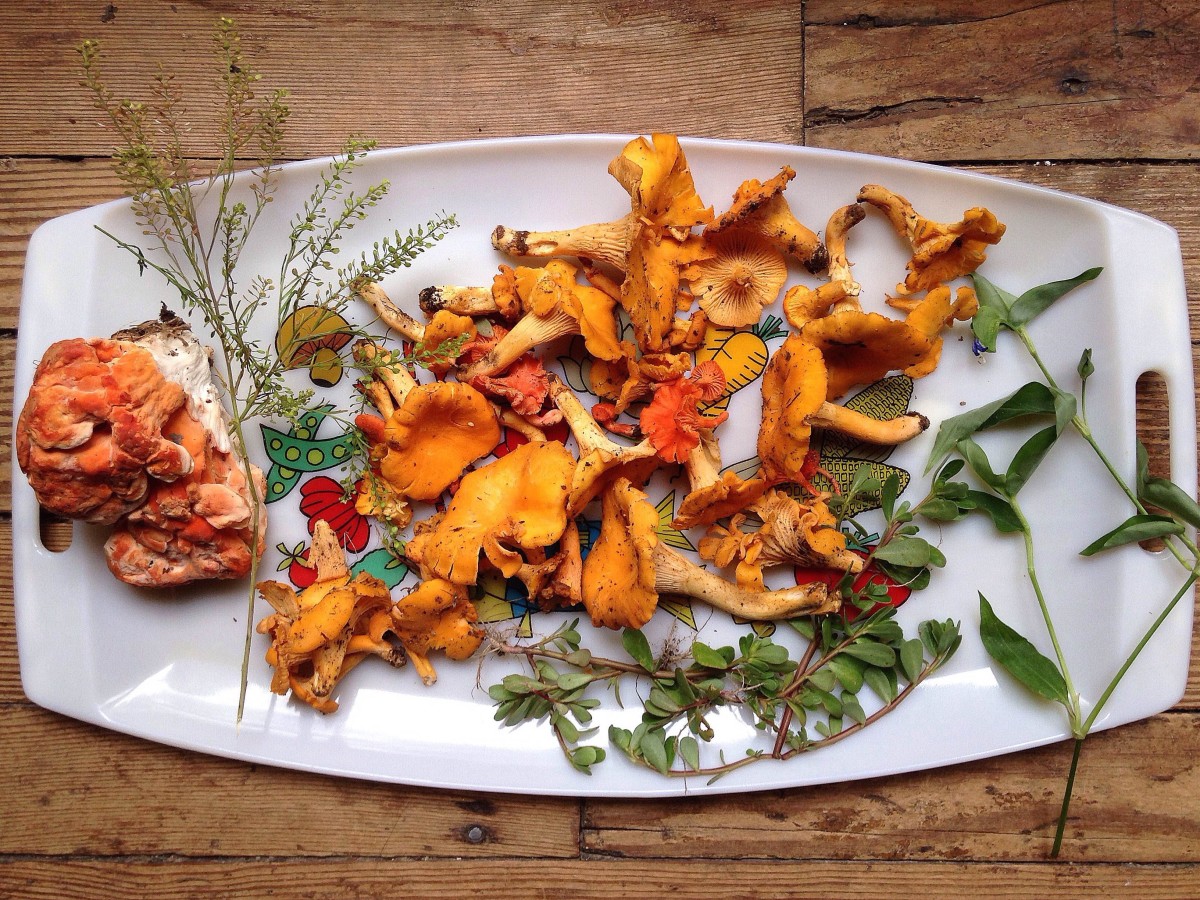 It's Sunday morning at Tuckahoe Plantation. The air is sweet and damp from a storm the day before. The ground is so soft it's almost bouncy. Steve Haas is several feet ahead of me on the bank of a creek, surrounded by chefs–Joe Sparatta, Craig Perkinson, Owen Lane, and Brian McClure. They're investigating a patch of cinnabar-red chanterelles, poking out of the moss like fluorescent flags. They pick a few, toss them into paper bags, and then Haas ushers them past his prized patch and onto the next spot.
Every Sunday, Steve leads forays through the woods that surround the historic Tuckahoe Plantation where Haas grows and forages mushrooms with his wife Elizabeth. The Haases have lived on the property for five years, but Steve says he's been hunting it for ten: "As soon as I stepped on to it, I said, 'I've gotta live here,'" recalls Steve. And a few hours of following him through the mushroom- and edible-plant-packed woods reveals why: It's a forager's dream–undeveloped, unpillaged, and loaded with treasure.
We stomp through the forest for over an hour, stopping to pick from patches of golden and red chanterelles, Steve leading the way. There are two couples–both Haashrooms fans from the farmers market, plus one very quiet man who amasses a ton of chanterelles and then dips out as quietly as he came, the chefs, my three-year-old and I, and two plant experts–Rebecca Herkenrath and Matthew Hollingsworth. The path we follow is mostly flat, safely navigable save for a few knee-deep holes in rotted out pine trees. The pace of the trip is brisk but not too demanding, and everyone, from the three-year-old to the white-haired grandfather, handle the hike with ease. Rebecca spots a wild blueberry bush, and we all take turns picking off the miniature blue berries, which are lovely and sweet and very, very tiny.
Steve spots a fat mushroom with a bulbous cap, straight out of a Mario Brothers game: It's a boletus variety, he explains, and one that, while not deadly, would nonetheless make anyone regret taking a bite, though not as much as the boletus satanus, which, according to Haas, will really mess up your day. Along the trail, he finds a few small bright orange mushrooms. To me, they could pass for chanterelles, but not to Steve: These are false chanterelles–not edible, he warns.
When we emerge to the tall grass, the hunt continues, this time for green things. German-born plant expert Rebecca Herkenrath points out something called "peppergrass" or "poor man's pepper." We all take a few nibbles of the stuff, which is growing rampantly across the entire field. It's juicy from the rain, with a flavor like watercress or nasturtium, both peppery and floral. As I'm considering how well peppergrass will go over with everyone at dinner tonight, Herkenrath moves on to a new patch–wood sorrel, growing where the gravel meets the grass. The leaves taste like clover, and the seed pods are crunchy and tart, like juicy, unripe berries.
We make our way back to the truck, finding succulent purslane growing all over the place like the wild weed it is. This stuff is prized by chefs for its unique lettuce-y qualities, a green that grows almost year-round along fields and sidewalk crevices in great quantities. I'm allergic to it, a fact I learned after working closely with it for months, but I stuff some in my bag anyway because it's so cool.
Back at the truck, Haas goes through each forager's bag, discarding decoys and any mushrooms that have seen too much bug damage to be good anymore. Craig Perkinson gave most of his chanterelles away, but he's put a dozen or so in his upturned hat. Owen Lane has a sassafras root that we all smell. It smells like root beer (and dirt). In addition to their chanterelle haul, the chefs have harvested purslane, some juniper berries (one of the main ingredients in German Sauerkraut, Herkenrath points out), and exactly two black trumpet mushrooms–the only two we found. Not bad for a morning's work.
Of course, these chefs can't go out foraging for themselves most mornings. That's where the experts come in. Folks like the Haases and local plant expert Nancy Baker bring the forest to the kitchen for them.
"I met [Nancy] as 'the fig lady,' but then I just started talking to her…" says Sparatta. "She would bring me a lot of different edible flowers that I didn't necessarily love. I was like, 'This is all well and good, Nancy, but let me get some wild shit.'" He remembers Baker saying, "Oh, I didn't know you liked that sort of thing!" Now she knows.
Sparatta says the relationship with a forager is all about letting them know what you want. Now she brings the good stuff–sassafras roots, stinging nettles, and the like. But Sparatta says he's never sure when she's going to show up. "She's kind of elusive," he laughs. "I think she might be a witch."
That relationship between chef and forager is what inspired Sparatta to host the Southeast Foraging Dinner at Heritage, next Monday, July 13th. "I thought it would be a good way to get everyone outside together," says Sparatta, who was also motivated by the release of Chris Bennett's new book, Southeast Foraging, 120 Wild and Flavorful Edibles from Angelica to Wild Plums. Sparatta will host the Magpie's Owen Lane, James Beard nominee Lee Gregory of the Roosevelt, Metzger Bar & Butchery's Brittanny Anderson, as well as Randall Doetzer, and Bryan McClure (plus, Southbound's Craig Perkinson, who swears he'll be washing dishes, a claim I find unlikely). Steve Haas, Nancy Baker, and Chris Bennett will be there to share some of their insight about foraged ingredients on the menu.
Sparatta says the menu will be influenced by what's growing wild that week, a fact he'll rely on his foragers to share with him. And though some dishes, like Owen Lane's frog legs, are already conceptually in the works, many of the finishing touches will be determined by Mother Nature a few days before the dinner itself. "[It's] a good opportunity for all of us to learn more about what's growing wild locally so we can all add more local products to our menus," says Sparatta.
Forager and author Chris Bennett has developed a great reputation and following in Birmingham, Alabama where he sells to a select group of chefs including Hot and Hot Fish Club's Chris Hastings and Highlands Bar and Grill's Frank Stitt.
The forager said he was inspired to start finding food in the world around him by Michel Bras, a master chef: "I picked up his cookbook, Essential Cuisine, and was totally inspired by the way he talked about [place]. Nothing says more about where you are than what's growing wild. If you love your land and where you are from, you are going to want to speak to that. Wild edibles a great way of doing that."
Bennett says foraging has its unwritten codes, including "Never take everything." He explains, "There are a few exceptions with invasive species like garlic mustard, but there are some things like ramps which take a very long time to grow and if you are not harvesting them sustainably, you will not see them around for very long." With that and basic tick safety in mind, Bennett encourages curious eaters to get out there and investigate: "Get outside and explore the world around you! You may find something, or you may not. No matter what you find, you will learn more about what is growing all around you."
— ∮∮∮ —
To reserve a seat for the Southeast Foraging Dinner, call Heritage: 804.353.4060
And hey, please don't eat things you found outside and become ill or die because of this article! This foray was successful for me because Steve picked through my findings and saved me from myself. I shudder to think what would've happened if I had fried up a rogue boletus! First timers should consider following a knowledgeable guide. Steve leads tours at Tuckahoe every Sunday at 9:00 am, and for more plant-based forays, holler at Jay Marion, aka Digger Jay.