Cocktails are a booming business in RVA these days. One of our favorite bartenders, Chris Elford of Saison, shows us his version of a classic.
Cocktails are proving to be a fruitful addition to RVA bar menus. Chris Elford, the bartender and certified Cicerone at Saison, said that cocktails account for about 50 percent of all bar sales at the new Jackson Ward restaurant–much more than was anticipated.
One of the cocktails Richmonders are sipping is a drink created circa the 1940s: the Hotel Nacional.1
Elford describes the drink as "not gaudy, not big…just really enjoyable," adding that it's "not overtly masculine or feminine either." While some may avoid tropical flavors in the absence of summer, Elford says a good tropical drink in winter can "transport people" to warmer climates.
Drop by Saison to get a taste of this cocktail– and try many more!
— ∮∮∮ —
Hotel Nacional
Ingredients
Instructions
Pour the mix into a container with a single ice cube2 and shake until the container gets too cold to hold.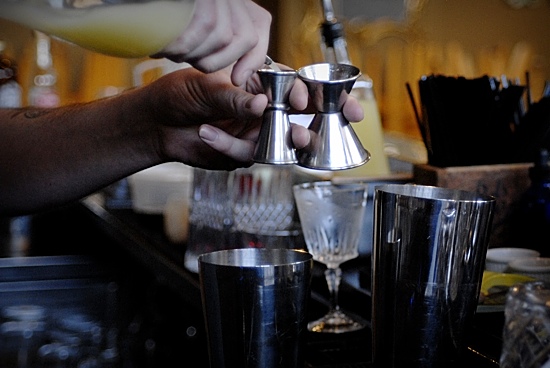 — ∮∮∮ —
Footnotes
Elford said bartenders, especially those of that era, are "notorious" for not writing down recipes. As with other historic cocktails, Saison creates variations of the drink that retain the spirit of the original creation. ↩
For this cocktail, Elford uses a single ice-cube to make it a "really light, fluffy drink." ↩
Photos by Erin Soorenko