The 40-some galleries and creative spaces that make up Downtown Richmond's First Friday Art Walk took advantage of the new year to showcase some exciting openings this past Friday. Here are a few of the highlights…
The 40-some galleries and creative spaces that make up Downtown Richmond's First Friday Art Walk took advantage of the new year to showcase some exciting openings this past Friday. The snowy evening was bustling with people darting from one gallery to the next, stopping to take pictures of street signs made quaint by the backdrop of falling snow. Here are a few of the highlights:
Quirk Gallery premiered its Main Gallery show, The Founders, featuring the ceramic work of Randy Edmonson, Steven Glass, John Jessiman, and Brian Pitney, the founders of the Cub Creek Foundation, which focuses exclusively on ceramic art. VMFA's Potter in Residence, Steven Glass' ceramics married functionality and style flawlessly. His pieces combined glazed and non-glazed surfaces to a dramatic, rich effect.
Pibby's Bicycle and Skate opened their new location with Sum of Each, a show featuring the work of local artists and friends. Matt Flowers's piece, "Evidence of the Flood" (pictured above; photo by Jonathon Davidow), was notably exceptional. The sculpture, made of chiseled rock, sodium bicarbonate, and wood, is nestled in a small wooden box, with an angled magnified lens for the viewer to peer into. When the eyes adjust and focus on the sculpture within, what is revealed is an hauntingly gray landscape, punctuated with a steep mountain as imposing as the Agro-Crag. Of the piece, Flowers says…
"The ark that is half buried in snow is made of wood and it is the dimensions of Noah's Ark as described in the book of Genesis on a scale of one cm for every 30 cubits. The design is one conceived by Anthanasius Kircher in his book Arca Noë, in which he investigated whether or not there would have been enough room for all of the species of animals on the ark, how they would have been fed and so on."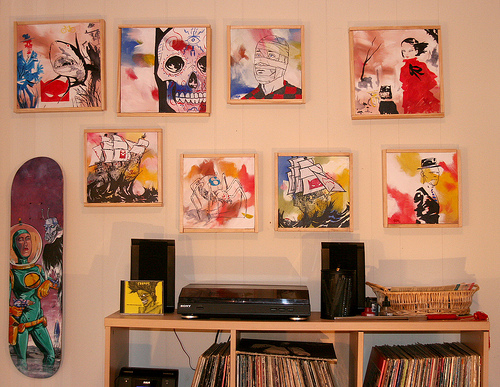 Image courtesy of Jim Callahan
Books, Bikes Beyond Thrift Store presented Total Drag, "painting, prints, and drawings of skateboarding and other stuff," the highly stylized, Daniel Clowes-inspired, Mike-Judge-on-acid-esque work of Jim Callahan of Barf Comics. The collection included skate decks as well as acrylic ink and water-based ink on canvas. The show blended perfectly with the space, and I was encouraged to rummage through the tschotskes and browse the Bea Arthur dress collection in the back before leaving. If you like what you see of Callahan's style, I must recommend his blog, self-described as, "The source for the hottest and freshest in Barf for today's jerk. Art shows, new comic releases, toilet humor, you know…the works."
Photo by Jonathon Davidow
"A juried exhibition of work displaying innovation in paper and fiber media," Papier-Machete, opened at Gallery 5. The show was successful in exploring the parameters of paper as a medium, a surface, and a muse. "Misfold", an honorable mention winning piece by Matthew Shlian was a playfully engaging 13-foot unfolded, origami-like structure, which, suspended from above by a thin wire, caught the air and spun in a particularly charming manner. The first place piece, "Anxiety Machines", by Schneckloth was an ornate work of charcoal and china marker on paper. The piece, which spans about 5 feet suggests swirling weather systems and portrays a strong sense of movement with hints of chaos.
At ADA Gallery, Morgan Herrin's draw-you-in-off-the-street one-piece show is comprised entirely of an untitled sculpture in construction-grade lumber. The piece, looming over its viewers from its pedestal, juxtaposes the formal structure of plate armor with the organic patterns of geometric formations. The sculpture manages to convey a sense of irreverence amidst what is obviously meticulous attention to detail.
Several blocks away at 1708 Gallery, Matthew Friday creates a laboratory that seeks to synchronize the past and the future in order to explore the socio-political implications of the Texas Board of Education's recent act removing Thomas Jefferson from text books. It's a highly interactive piece, combining maps, computers, diagrams, and viewer input in a manner that would surely give Jefferson himself cause for reflection.
These shows will be up for the rest of the month, so you can have a gallery walk of your own if you happened to be otherwise engaged this weekend.