$15,000 worth of copper planters were stolen, that's a lot of copper planters.
Update #1 — July 17, 2014; 9:54 AM
Good news for all those worried about justice being served in the planter case. Within a few hours of Richmond Police posting the picture above to Facebook, someone called in and implicated Brandon R. Slaughter, 26, of Glen Allen. Brandon (seen below) turned himself in to police the next day.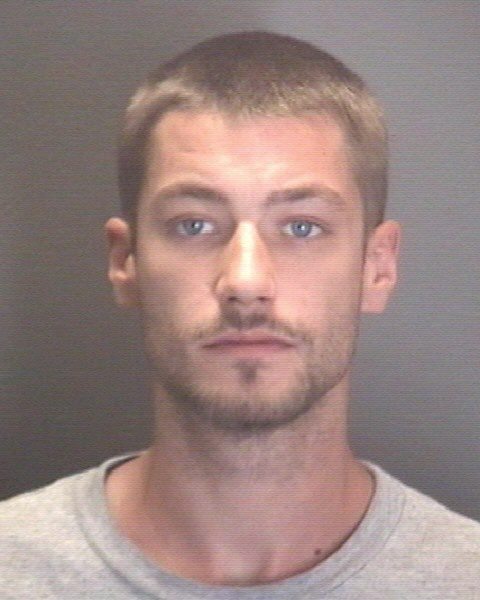 Detectives would like to thank the community, and especially our Facebook fans, who immediately called in several tips that identified Slaughter.

Though the Department has received several crime tips via Facebook previously, this is the first time detectives are aware of a direct link between a post and an arrest. Thank you Richmond!
— ∮∮∮ —
Original — July 14, 2014
Last week someone stole copper planters from the Jefferson and police could use your help.
Originally posted on RPD Facebook.
Recognize this person of interest in the theft of these copper planters from the Jefferson Hotel? Please give us a call! If not, please share these photos to help us identify him!

Detectives need the public's help to find and identify this man in connection with the theft of six copper planters from the Jefferson Hotel last week.

Sometime between 3:49 p.m. on Wednesday, July 9, and 7:10 p.m. on Thursday, July 10, an unknown person(s) stole copper planters—valued at approximately $15,000—from the hotel at 101 W. Franklin St.

The individual pictured is a person of interest in this grand larceny and detectives would like to speak with him.

Anyone with any information about this man's identity is asked to call Detective Mark Godwin at (804) 646-5533 or Crime Stoppers at 780-1000. Citizens can also text Crime Stoppers at 274637, using the key word "ITip" followed by your tip. Both Crime Stoppers methods are anonymous.