G.O.R.P. has a nice post about their Escape From Belle Island Adventure- Excerpt: "A child's world is fresh and new and beautiful, full of wonder and excitement. It is our misfortune that for most of us that clear-eyed vision, that true instinct for what is beautiful and awe-inspiring, is dimmed and even lost before we […]
G.O.R.P. has a nice post about their Escape From Belle Island Adventure–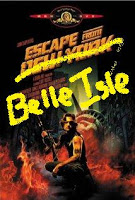 Excerpt:
"A child's world is fresh and new and beautiful, full of wonder and excitement. It is our misfortune that for most of us that clear-eyed vision, that true instinct for what is beautiful and awe-inspiring, is dimmed and even lost before we reach adulthood. If I had influence with the good fairy who is supposed to preside over the christening of all children I should ask that her gift to each child in the world be a sense of wonder so indestructible that it would last throughout life, as an unfailing antidote against the boredom and disenchantments of later years, the sterile preoccupation with things that are artificial, the alienation from the sources of our strength." – Rachel Carson, The Sense of Wonder

I'm not sure what Rachel Carson's fairy would make of Escape from Belle Isle, but I doubt her assessment would include the words "beautiful" or "awe-inspiring." There was some excitement though, and some wonder, if only that of a few parents wondering if any of the children would, in their excitement, run straight off the edge of a cliff.

Nine families braved the beer bottles and cold breezes that greeted us Sunday on the north bank of the James River. I was, as has been my custom over these last few miserable weeks, dressed in about fifteen layers of fleece and polypropylene, with extra layers in my backpack just in case; but despite these precautions I was eager, like everyone else, to get moving down off Oregon Hill when the wind picked up and the sun disappeared behind the clouds.