Five novels published in April, including a serious contender for my favorite book of the year!
Five novels published in April, including a serious contender for my favorite book of the year!
by Ken Kalfus; April 16, 2013
Thayer has to remind the engineers of the Equilateral's purpose and fundamental principles. If the figure is forced to conform to the Egyptian landscape, the astronomers of Mars will be placed in the same difficult position as their colleagues on Earth: unable to convince parochial skeptics that the markings on the distant planetary surface are the work of sentient beings. It's the disregard of the natural landscape that proves man's intelligence.
Clearly, we're not in 2013 anymore. Ken Kalfus' Equilateral is set in 1894, where British astronomer Sanford Thayer has spent several years working toward the construction of a massive equilateral triangle in Egypt. Thayer has come to believe that the triangle has the ability to communicate with living beings on Mars if completed and set aflame on a specific date, allowing the planets to properly align.
Equilateral is a fascinating studying of time, place, and purpose. While the blend of science, math, and hint of sci-fi are enough to make for an interesting plot on their own, it is the historical commentary that can catch and pull you in. With delicate precision, Kalfus is able to travel back in time and piece together phrases offensive enough to come from a colonial-minded 19th century man. I found myself highlighting line after line, in awe of this story so opposite our politically correct world.
The novel has much to offer to so many different readers: brilliant writing, math and science notes, a telescope into history. It's unlike anything I've ever read and deserves to be picked up by as many people as possible.
— ∮∮∮ —
by Jen Kirkman; April 16, 2013
Jen Kirkman is a stand-up comedian who decided early in life that she was not meant to be a mother. In I Can Barely Take Care of Myself, she explores the events in her life that led to and confirmed her beliefs in being childfree. With a witty, at times almost cringeworthy voice, Kirkman details her experiences choosing to forego motherhood in a very child-centric world.
In the first handful of pages, Kirkman compared people badgering her over the need to have kids to constantly being told why she needs to watch The Wire. I knew instantly I was going to enjoy this book. Don't get me wrong; I love The Wire, but if you've ever not watched The Wire, you know where she's coming from.
While it's definitely funny, writing I Can Barely Take Care of Myself off as the work of a snarky comedian lacking substance would be a mistake. Kirkman makes some really interesting social observations, particularly when she discusses her resentment toward feeling like she must refer to her career as her baby in order to acceptably explain her choice not to have children.
There are many that will be easily offended by Kirkman's honesty, just as they may be offended by her choice not to have children, and this book will not be for them. However, for those who are considering not having children, waiting to have kids, or just open to different viewpoints, I Can Barely Take Care of Myself is one to grab.
— ∮∮∮ —
by Meg Medina; March 26, 2013
Piddy Sanchez doesn't know much about the students at her new school, but she finds out rather quickly that Yaqui Delgado wants to kick her ass. She's not sure why, though she thinks it has something to do with a boy. Soon Yaqui's threat is tumbling through Piddy's life, impacting the relationships she has with her mother, teachers, and friends.
Don't be thrown off by the title. It's strong, but the title says so much about what this book is: real, bold, and not afraid to lay it all out. What it's not is gratuitous or gimmicky. Medina's book works to fill a much needed space in YA literature, both for Latino readers seeking a novel that reflects them back and others who can benefit from connecting with a non-white character.
Piddy's final encounter with Yaqui is very real and very current. It's something that many teenagers, parents, and schools are dealing with on a regular basis, but is so severe that many wind up afraid to admit to for fear of repercussion. In Yaqui Delgado Wants to Kick Your Ass, Medina traces Piddy's path through denial to eventually sharing what happened with school leaders. She is not a narc. She is not a snitch.
Though parents and teachers may initially be turned off by the title, tossing Piddy's story aside would be a mistake. Instead, they should be thanking Meg Medina for writing this culturally rich, socially relevant novel that has the potential to lead to positive change.
Though Yaqui Delgado Wants to Kick Your Ass was published at the tail end of March, I'm looping it in with April to feature local author Meg Medina. Among the numerous community projects she's involved in, Medina will be at the Broad Rock branch of the Richmond Public Library on Friday, April[ 26th from 4:00 – 6:00 PM for the opening reception of an exhibit of Latino children's book illustrations, as part of El Dia De Los Libros.
— ∮∮∮ —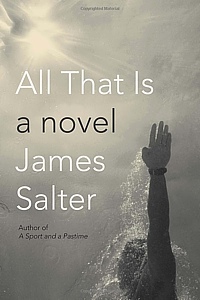 by James Salter; April 2, 2013
All That Is is James Salter's first published novel in 30 years, making it the first in my lifetime. Yet, within the first chapter of the book, I found myself in complete disbelief and frustration over the fact that I had let his earlier work slip by.
Salter traces the life of Philip Bowman, a naval officer returning from World War II who lands a position as an editor with a small publishing company. Bowman finds comfort in the women around him, though love is more difficult to secure than success. Through a series of relationships, and their intricate intersections, All That Is explores the full journey of a life.
It's clear from the start that this is a novel written by someone with a wealth of life experience to draw from. At age 88, Salter has a keen sense of perspective, noting everything from the betrayal of the changing seasons to the common mistakes we make when under the spell of another. It's almost as if he has seen the world from every possible pair of eyes and has been told every story; the voice of wisdom in his writing is unlike anything else. He combines his words into gorgeous sentences that feel so effortless and seem to jump from every page.
He loved her for not only what she was but what she might be, the idea that she might be otherwise did not occur to him or did not matter. Why would it occur? When you love you see a future according to your dreams.
While some may leave All That Is looking for a more pulsing plot, any reader who appreciates the beauty of written language will easily find love in the first few pages. I've already begun digging up Salter's backlist, I definitely have a new favorite.
— ∮∮∮ —
by Meg Wolitzer; April 9, 2013
The Interestings focuses on Jules, Ash, Ethan, Goodman, and Jonah; a group of teenagers who meet at a summer camp for the artistically gifted in the mid-1970s. Though their backgrounds and talents are varied, their time at the camp creates a bond that will keep them together throughout the stages of adulthood.
It starts with simple, dry wit as the campers develop the ironic banter that will become standard through their early friendship. What seems like the familiar, awkward camp story is actually a delicate framework for the detailed relationships that will grow between the characters.
When Ethan and Ash find success well beyond what any of their friends could have imagined, their lifestyle beings to set them apart. It's here, as the group journeys through adulthood, where Wolitzer's talent begins to stand out. She is able to walk her characters through seemingly endless themes, namely the dynamics of friendship and envy, without making them appear fantastical or sending them down stereotypical paths. When I was worried it might bend, she made sure the character framework she created early on held strong and added beautiful dialogue to boot.
This is hands down my favorite book of the year so far. If something comes along that can top The Interestings, we are in for an absolutely amazing year of reading.
Photo by: Maguis & David