Forget those old board games collecting dust in your closet and try something new.
The holidays mean you have time on your hands and likely more people in your house. This is a great opportunity to break out a board game. Before you rush off for Monopoly or that seriously out of date version of Trivial Pursuit hold on and check out some of these modern board games that are inspired (at least in my mind) by the areas we live and work in.
Most of these games can be found at One Eyed Jacques in Carytown or Dragon's Den in Short Pump.
Carytown – Ladies and Gentlemen
At its most basic level this game is about shopping and being the best dressed. What separates this game form others is that you have teams and while one person is working the stock market the other is putting together the most fabulous outfit to get ready for the ball. A frantic game that can play up to 10 and is relatively short. Might need to play more than once to get a feel.
Forest Hill Park – Steam Park
Quite a few people don't know that Forest Hill Park used to have an amusement park complete with small rollercoaster. Now you can be in charge of your own amusement park on your table top complete with guests who will get sick and leave a mess for you to cleanup. Did I mean that everything is powered by steam and the park is for robots? The art in this game is beautiful.
West End – Castles of Mad King Ludwig
Construction is going crazy out there so it brought to mind this game of building truly twisted castles by laying down tiles. It makes perfect sense to build that laundry room right next to bedroom which also connects to the pantry and panic room. At the end of the game the person with the most points wins but really it's the person with the most bizarre looking home.
Shockoe Bottom – Freedom: The Underground Railroad
Probably the most serious of our games on this list but it's a serious subject matter and this game could be a great opportunity to discuss this piece of Richmond history. This is a cooperative game for four players and as you might have guessed it's about helping runaway slaves safely make the journey from the south to the north. Hard decisions will have to be made and this could bring the party mood down.
Honorable Mention since Freedom is so serious – Ticket to Ride
Building train routes with lots of little fiddly train bits, great introduction game. Just beware of table bumps and leaping cats because there are lots and lots of train bits.
Northside – Formula D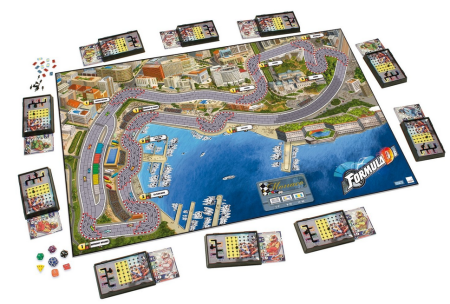 There are NASCAR games out there but for sheer board gaming fun you need to go with Formula D. Roll dice, race around a track and the rules/complexity can be scaled for nearly everyone in the family. It also means you can make loud car noises and play with itty-bitty cars.
Lewis Ginter Botanical Gardens/Maymont – Takenoko
You're tasked with growing a beautiful bamboo garden but unfortunately there is a hungry panda that needs to be fed. This is a beautiful game and looks like a child's game. However there is plenty of strategy buried beneath the cute and when you're setting it up that cute will surely attract more players.
RVA's Breweries & Bars – Love Letter
The number of loves won and lost in our local watering holes is countless so it's natural to play a game with that theme. This game only has 16 cards put can play up to four people in a game of luck, logic and misdirection. Just like a Friday night out on the town.