Studio 3 blows all previous Studios out of the water with one world premiere and one previous Richmond Ballet world premiere. Even if you don't know how to talk about ballet (I empathize), expect to feel things.
Bam! It's Spring! And that means the Richmond Ballet's Studio Series starts up again, this year with the help of choreographers Jessica Lang and Ma Cong. The former's La Belle Danse premiered in Richmond in 2007 and has now gracefully taken its place within the modern ballet canon. And the latter's new work, Luminitza, appears for the very first time especially for our very lucky Richmonders.
We've talked a lot about ballet here on RVANews, partly because it's awesome but partly because it's super awesome. One thing to keep in mind: I am in no way a dance critic. That's not to disclaim the things I say about Richmond Ballet's productions. Au contraire,1 it is to illustrate just how accessible these Studio Series productions are. In other words, if it delights this yokel, it might just delight you, too.
Wait! Not that you're a yokel! You know what I mean!
If your curiosity is piqued by all this chatter about how beautiful the ballet is, but you can't picture yourself enjoying a parade of tutus, now is your chance to discover how much more there is to Richmond Ballet's Studio Series. Both Lang and Cong's works, though strikingly different from each other, celebrate the really cool things our bodies can do.
Well, not our bodies, as in, yours and mine. But the bodies of highly trained professional dancers.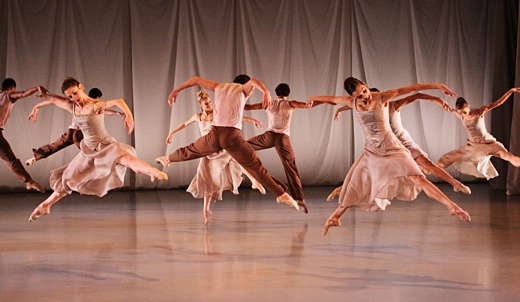 La Belle Danse is a complete pleasure in five acts (don't get freaked out by that number, the whole thing probably clocks in under a half hour). Using classical music by Handel, Corelli, Des Prez, and Mozart as a canvas, Lang has created visual music–if that makes sense. The title implies that it's all about pretty movement, and it's stunning, for sure, but one thing I noticed above all else was how intricately the music and steps were aligned.
Taupe drapes and drapey taupe costumes combine with gorgeous teal pools of light in a brilliant collaboration by costume designer Tamara Cobus and lighting and scenery designer MK Stewart. Each dancer looked more excited than usual to be there (which is saying something), particularly Lauren Fagone, Cody Beaton, Cecile Tuzii, Phillip Skaggs, and newcomer Elena Bello. The energy was infectious, and I heard a lot of "Wow!"s, a couple of "Incredible!"s, and one "Holy crap!"2 as the house lights came up at the end.
I was so disappointed La Belle Danse was finished that I convinced myself Ma Cong's work could never measure up. I'm often wrong about these things.
Luminitza, Cong explains in the introductory video, is a Romainian word for "little light." As dancers twist around each other in blue Rebecca Turk costumes inspired by Romainian egg designs to music by Romainian composer Alexander Balanescu, Cong evokes a sense of hope. That is, a little light of hope. The tangle of emotions is more complex than La Belle Danse and the choreography more visceral. For me, the pervading impression was that of striving, working towards a goal.
I spoke to some dancers afterwards, many of whom had appeared in both halves of the show, yet still had breath enough to bubble over with enthusiasm for the program. Every single one of them was uncontainably excited about the opportunity to work with Cong, describing over and over again how lucky we all are to have this innovative dance dynamo in our presence. From what I gathered, his stuff is nothing like anything they've danced before. And, as Stoner Winslett mentioned in her speech before the curtain was raised, this is how the mainstream flows. New art presents itself, but it's always influenced by what came before it. In turn, it will influence other innovators, and it will all be links in a chain that makes up our cultural tradition.
It's a neat concept, and one that may inspire you to grab some tickets so you can say you saw Luminitza before the rest of the world embraced it. And even if you don't know what the names of the steps are, make up your own names for them. Who cares! You're there to let the ballet mean what you want it to mean.
— ∮∮∮ —
Footnotes
Ballet rule I made up: Whenever possible, use French words (or should I say, usay les Fronch …um… ballet oui bonjour baguette!) ↩
From me. Still counts. ↩