If I could have asked for a program, this would be it. And if I could ask for it to be named after me, let's just say I would ask that as well.
In just a couple of weeks, our Richmond Ballet company departs for China, as the final piece of a yearlong exchange initative. It's exciting, y'all. Representatives from the Chinese Embassy saw the company perform at the Kennedy Center back in 2013 and were so impressed that they set the plan in motion.
What an honor!
What's one thing you absolutely must pack for your trip to China?
"My camera!" –Trevor Davis
"I cannot leave home without a pair of comfortable walking shoes. Foot comfort seems like one of those things we take for granted as ballet dancers, however, a pair of comfortable shoes is priceless! It makes the whole trip much more enjoyable." –Shira Lanyi
"My first thought was my kindle, and then I was like 'Oh wait, definitely passport and pointe shoes!' " –Cody Beaton
"My pointe shoes. Chances are, if I forget something I can get most anything else I'll need while there, but those perfectly broken-in and dyed-to-match-my-skin tone pointe shoes are irreplaceable." –Maggie Small
What's one thing you absolutely plan on bringing back?
"Memories for a lifetime." — Trevor Davis
"I am certainly going to bring back a myriad of memories and experiences which, to me, is always the best souvenir from an epic trip such as this one. To share these memories with my best friends and colleagues will make the memories all the more sweet. — Shira Lanyi
"Lots of photos my family will have to suffer through!" — Cody Beaton
"Tommy." — Maggie Small (fellow dancer Thomas Garrett is her long-time boyfriend)
Good for them, sure, but also–good for us! We get to see the very, very best program that I could ever hope to recommend to you. Made in the USA: Traditions & Innovations was a big hit when the company performed for the Royal Ballet in London, and now it adds on Ma Cong's latest RB premiere, Life the Fallen. Combine it with Polaris,1 and I wouldn't even recommend that you attend, as I would fear for your psyche. It would be impossible to ever see that much beauty in one sitting and live to tell the tale.
You've got from Tuesday, May 12th through Friday, May 15th to check out the program yourself. If you'd like a sneak peek, check out these brilliant videos from the Swipe rehearsals:
On the menu
I have seen each of these at least once, and can personally attest to their majesty. Here's my summary.
Valse Fantaisie
Choreography by George Balanchine • Music by Mikhail Glinka
Pink and floaty and beautiful–everything you want in a Balanchine. It's about 10 minutes long, which will feel too short (all of these will, actually). But fear not, Balanchine and his remaining Trust don't give his ballets to just any company. They know RB will take it to the nth degree of perfection and grace. Those 10 minutes will be jam-packed with technique and elegance.
Here's a recording of a 1973 version in Berlin, with John Clifford, founder of the original Los Angeles Ballet:
After Eden
Choreography by John Butler • Music by Lee Hoiby
One of the very first ballets I saw that really made me think, "Wait, I could get into this." Powerful, angry, remorseful, confused, betrayed–you'll get all that and much more as skin-colored-unitard-clad Eve springs from Adam's ribcage and things begin to fall apart. Major physical feats here.
Lift The Fallen
Choreography by Ma Cong • Music by Max Richter
Ma Cong choreographed this piece, which uses a ton of rippling silk to capture the right amount of flowiness, to celebrate his mother, who passed away shortly before. While it's sad in parts, most of it is completely saturated in happiness, love, and tribute. If you are not moved by this, I fear for you. When I saw this a year ago, I turned to my companion and said, "That was the most beautiful thing I've ever seen." Then the older gentleman behind me said, "That was the most beautiful thing I've ever seen," to his own companion. So it's universal.2
Some more pics, because my heart desires to see this every day of my life: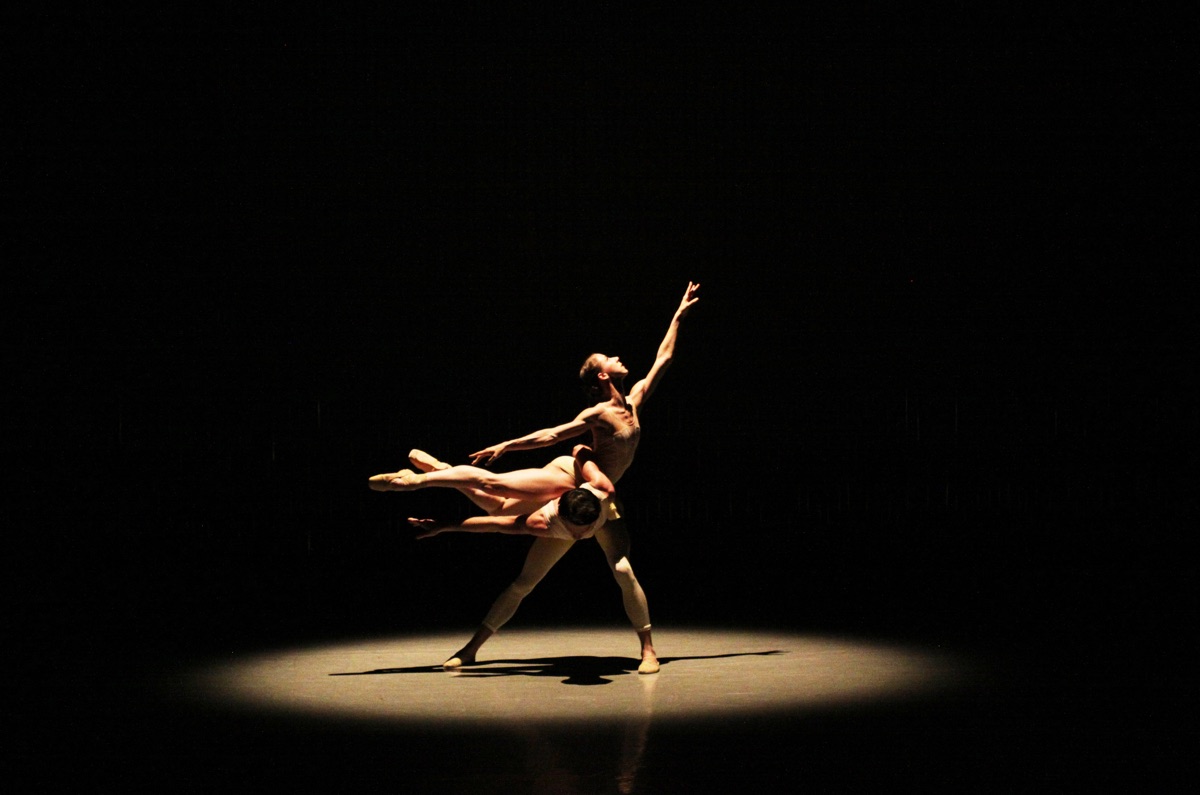 Swipe
Choreography by Val Caniparoli • Music by Gabriel Prokofiev
Swipe consistently gets chosen for these types of things for lots of reasons. It's upbeat and fun, but it also gets serious. The dancers clearly love doing it–even enjoying your amusement at the key strutting, duck-like move that keeps reappearing–and when the dancers love something, it shows.
— ∮∮∮ —
Made in the USA: Traditions & Innovations will be performed nightly (6:30 PM) from Tuesday, May 12th – Friday, May 15th. Get your tickets ($20) today, and take advantage of probably your last opportunity to see Shira Lanyi and Phillip Skaggs in action (both are retiring after this season). Visit the website to purchase or call the box office at 804.344.0906.
Photos by: Sarah Ferguson
---
One of the New Works Festival pieces this year by Katarzyna "Kate" Skarpetowska. I loved it so much I LITERALLY burst into tears, as did the GROWN MAN BEHIND ME. ↩
And I think we've also learned that if you sit directly behind me, you may, through some supernatural force, absorb my emotions and mirror my responses. ↩