The nonprofit will open a 7,000-square-foot community print shop in Scott's Addition May 1st.
A community print shop that's bursting at the seams is out to build an addition to their studio space. The Addition. Studio Two Three, which started as a modest 400-square-foot art studio in Manchester, is crowdfunding a project to open a 7,000-square-foot community print shop in Scott's Addition, in what co-founder Ashley Hawkins hopes will be a transformative project for the neighborhood.
A first-of-its-kind space in Richmond, the new studio at 3300 W. Clay Street will feature an expanded print shop offering artists space for screen printing, etching and lithography, photography, and more—plus 20 private and semi-private artist studios—half of which have already been booked by local makers for the first year.
Home Is Where The Art Is
Back in 2008, Hawkins and three other graduates fresh out of VCU's art program found themselves with degrees but no jobs. Taking the route trod by many others in what was then a recession-saddled economy, the group decided to open their own studio space in Manchester near Plant Zero.
The four quickly discovered they were filling a void in the Richmond area by providing a collaborative space that printmakers and other creatives could call home—a place where they could come together to share resources and space. Studio Two Three quickly outgrew the location, subsequently crossing the river for a larger studio at 1617 W. Main Street.
Around the same time, they decided that the best way to expand and serve the needs of Richmond's creative community was to seek nonprofit status. It was then that the studio began offering community classes in screen printing, photography, and other creative arts. Drawing more folks in to hone their skills or try something new, the space once again became crowded.
Building The Addition, In the addition
Looking for a little extra elbow room, Studio Two Three began exploring warehouse space in the fledgling Scott's Addition neighborhood. After touring a couple spots, the group settled on a former recording studio space at 3300 W. Clay Street. A blank canvas, the two story open floorplan allowed for complete customization of the new studio, buildout of which is now underway.
Owned by Monument Construction, contractors are hurriedly erecting walls, putting in duct work, and prepping the space for a projected May 1st opening.
In order to bring the project to fruition, Studio Two Three is currently running a crowdfunding campaign on Indiegogo, which aims to raise $14,000 to cover buildout and moving expenses. At press time, $5,200 had been raised.
"Some of the perks are pretty fun," Hawkins said. "You can drive a steamroller (in reference to Studio Two Three's steamrolled Richmond map project that demoed at last year's RVA Street Art Festival), Ross will paint you a custom sign, et cetera."

Painting The Canvas of Scott's Addition
Ross Trimmer, longtime friend of Hawkins and owner of Sure Hand Signs—a local hand-lettered sign company—believes the 7,000-square-foot community studio will be a transformative project for Scott's Addition, which will add some flair to the industrial-style neighborhood.
"This [studio] puts us in an area where we think people are really going to take notice," Trimmer said. "Hopefully what we do in here will draw people in. I think it is going to draw a lot more artists and creatives to the area."
In the era of the sharing economy, Hawkins and Trimmer see the space as a good option for creatives looking to not only share space and resources, but connect and collaborate—think of the new space as a coworking space for artists, if you will.
"It's very Richmond, because it allows a lot of people from different backgrounds to get together. You get to influence each other, and it takes the solitary aspect out. And a lot of it, too, is the fact that Richmond is changing. Things are getting more expensive, so it makes sense to work together and share resources."
"We've already seen the Arts District (on Broad Street just east of VCU) change in the past couple years—there are a lot more working spaces and things like that over there, it's not just galleries anymore," Trimmer said. "The same thing will happen over here," he predicts. "It will make people pay attention to this area."
Studio Two Three: The Addition plans to host events in collaboration with other local businesses once it opens its doors, as well as open studio nights, film screenings, and possibly even date nights in collaboration with local restaurants, right in the space.
The group has a 10-year lease with a five-year option to renew, so the latest addition is one the board hopes it can grow into over the years as it seeks to become a sort of centerpiece for the community.
"There's not a lot of destination spaces [in Scott's Addition] yet—mainly restaurants and places to go get beers—so we're trying to be that third element of something to do in the neighborhood."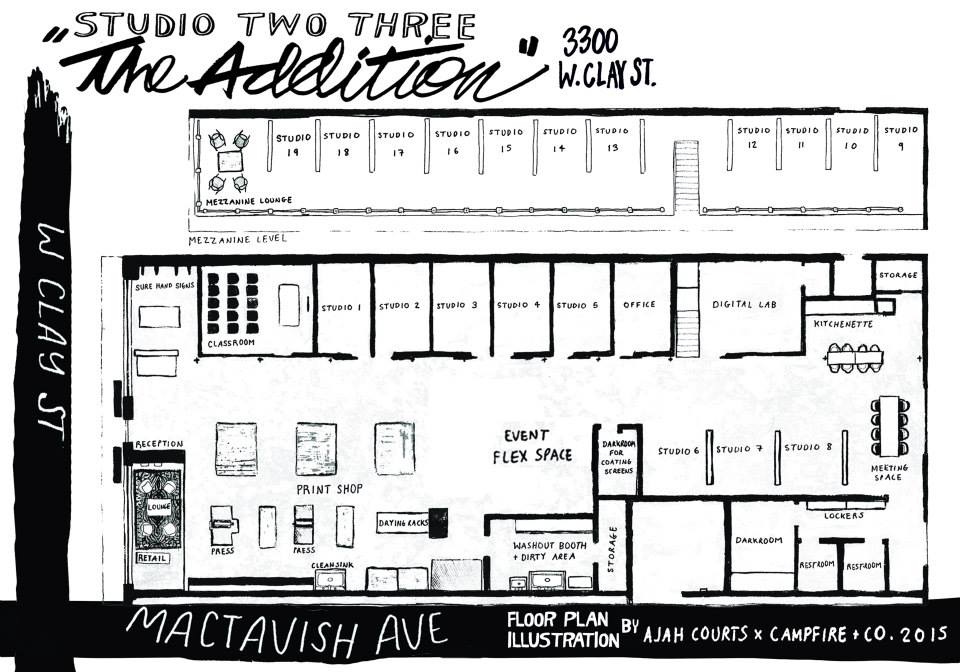 — ∮∮∮ —
To learn more about Studio Two Three, visit their website. You can find the studio's Indiegogo campaign here.
Photos: RVANews/Trevor Dickerson & Studio Two Three