Mel Blanc, Jack La Forge, Walter Daniels & The Gospel Clodhoppers, Yage, The Upsetter, Jeri Southern, Curley Weaver, Elektrik Cokenut, The Teenage Hunters, Minutemen, Junior Murvin, Leonard Cohen, and more…
Listen
Audio clip: Adobe Flash Player (version 9 or above) is required to play this audio clip. Download the latest version here. You also need to have JavaScript enabled in your browser.
Subscribe
Download
Title: The Bopst Show: Funny Party (Episode 134)
Rating: PG-13 (Adult Situations, Mild Profanity)
Intent: to make any social gathering conducive to merriment
Random Diversion: I now am registered as unaffiliated.
Random Image: Party Hard…
Random Blog: AM Then FM
Random Band/Musician: The Indie Rock Cafe
Random Artist/Band/Personality/News Story Not Heard On This Podcast:
Construction Dates: Tuesday-Friday January 6 & 7th, 2011
Equipment: Mac G5, Free Audio Editor & Recorder Software from Audacity, Frontier US-122 USB Audio/MIDI Interface, Shure SM57 Microphone
Posted: December 20th, 2010
Artists and Groups in order of appearance: Mel Blanc, Jack La Forge, Walter Daniels & The Gospel Clodhoppers, Yage, The Upsetter, Jeri Southern, Curley Weaver, Elektrik Cokenut, The Teenage Hunters, Minutemen, Junior Murvin, Peggy Sue, Kaki King, The Hidden Orchestra, Bootsy Collins & Lady Miss Kier, Leonard Cohen, Rita Chao Usha Uthup
Liner Notes:
Here are some shows I'm hustling at Balliceaux this week…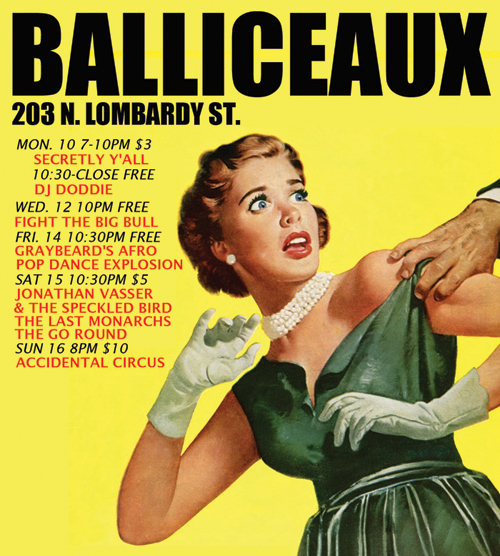 NEXT NEW SHOW: 01/17/11
The complete set list for this week's show and all previous show set lists (134 as of this writing) are on my blog. If you hate MySpace (and who doesn't), look me up on Facebook. I post track listings there as well.
2 hours of Bopst Show programming airs Sundays, 12-2PM (EST-USA), on KAOS Radio Austin.
Until Next Time:
Stay clean,
BOPST
[previous cat="bopst"]